We were in Aurangabad, and nothing much happening on the work front which required us to turn back, were tempted to visit Lonar. About 60,000 years ago (they say around the Pleistocene Epoch), a meteor is supposed to have struck this place in Buldana district of Maharashtra, created a massive crater about 6.7km in circumference and 1.2km in diameter. The impact must have created huge tremors, fires, whatnot, but it has also left a very unique lake here. Lonar crater is the only known hyper velocity impact crater in basaltic rock anywhere on earth. In 2007 biological nitrogen fixation was discovered in this lake.
The drive from Aurangabad to Lonar takes about 4 hours at a normal pace. The roads are not too good. But the journey is beautiful with agricultural fields on both sides, and apart from Jalna, not much ugly industrial landscapes.
We stayed at the MTDC Lonar (there aren't too many options here), and were pleasantly surprised. They cooked to our tastes, and rooms were fairly good. We were also lucky to get a good guide Ramesh. We decided to go for a trek of the entire crater the next morning.
The climb down is kind of steep, but not too stressful. The walk around the Lonar crater is around 7km, starting with a moderately steep descent and then through a trail in the thick forest. Through the trail we came across a total of 10 ancient temples around the lake.
The lake waters are a rich green due to some kind of algae. The outer circumference waters have a neutral pH of 7 and the inner waters are a high alkaline or around pH11. We had read the lake forest has chinkaras and gazelles, but only found traces of wild boar, a couple of hyenas, grey langoors, fruit bats, grey hornbills, grey tits, Indian koels, alexandrine parakeets, oriental magpie robins, Indian robin, black winged stilts, red wattled lapwings, collared doves, peafowl, and heard grey fantails, and perhaps a few other birds I am missing out. We had visited in August, so everything was fresh and green, and the weather cool and breezy.
So this is Part One of our Lonar visit, which covers the lake. Part Two will cover the temples around the lake and Part Three, the other temples in the city.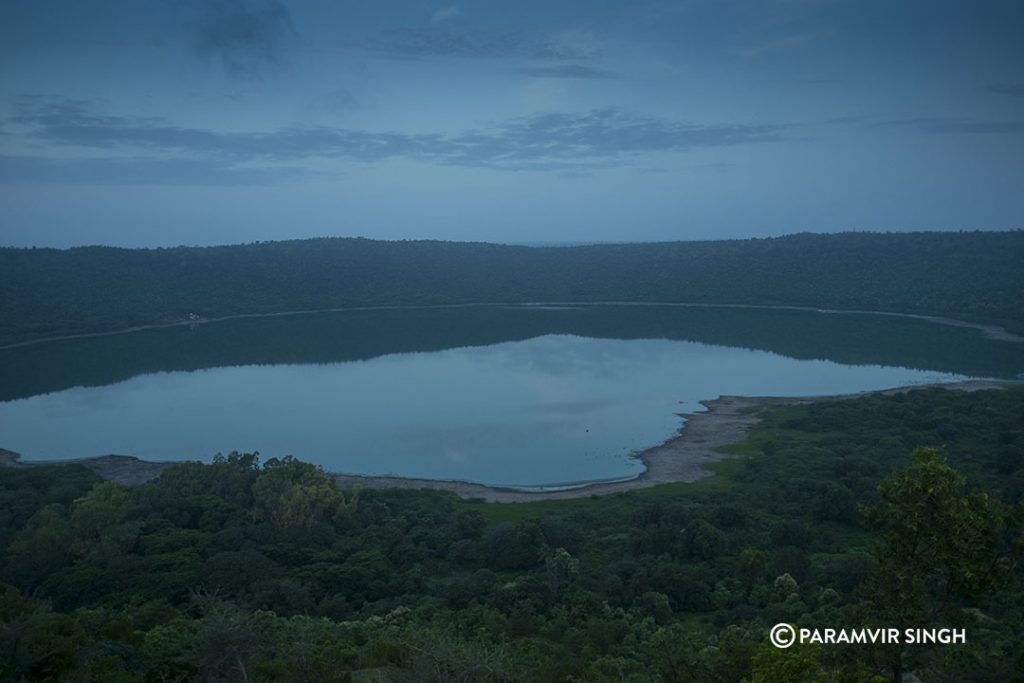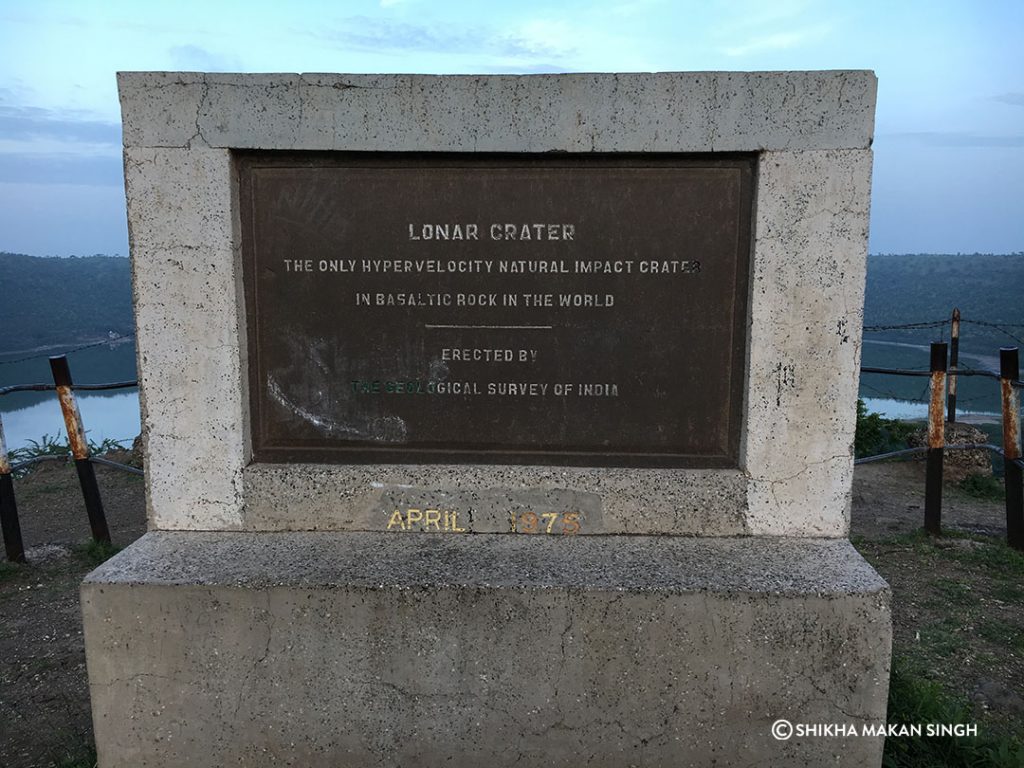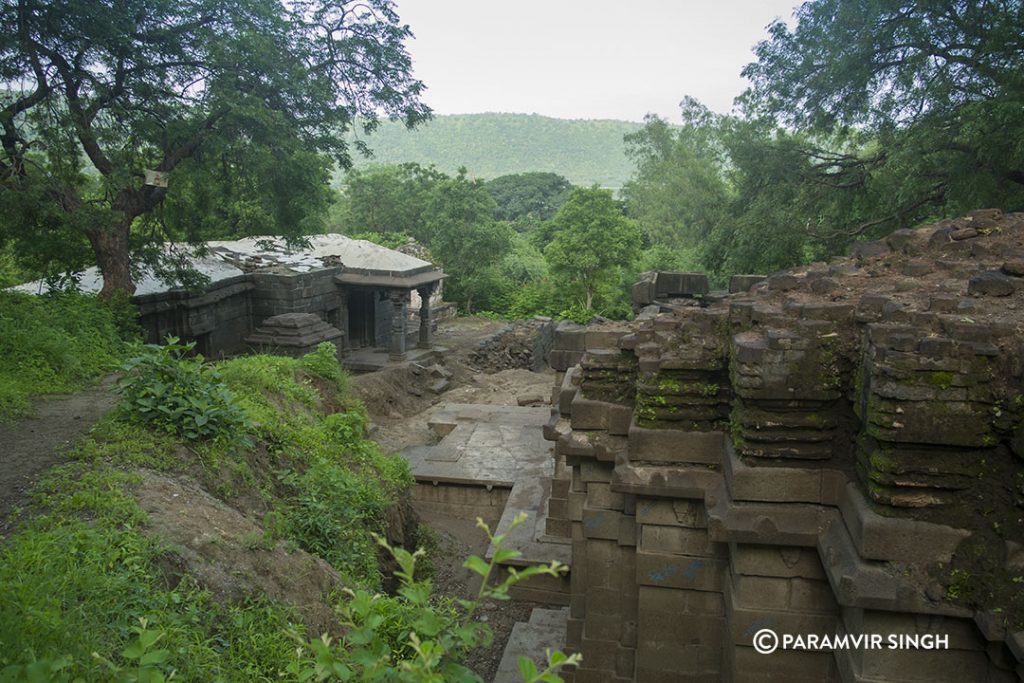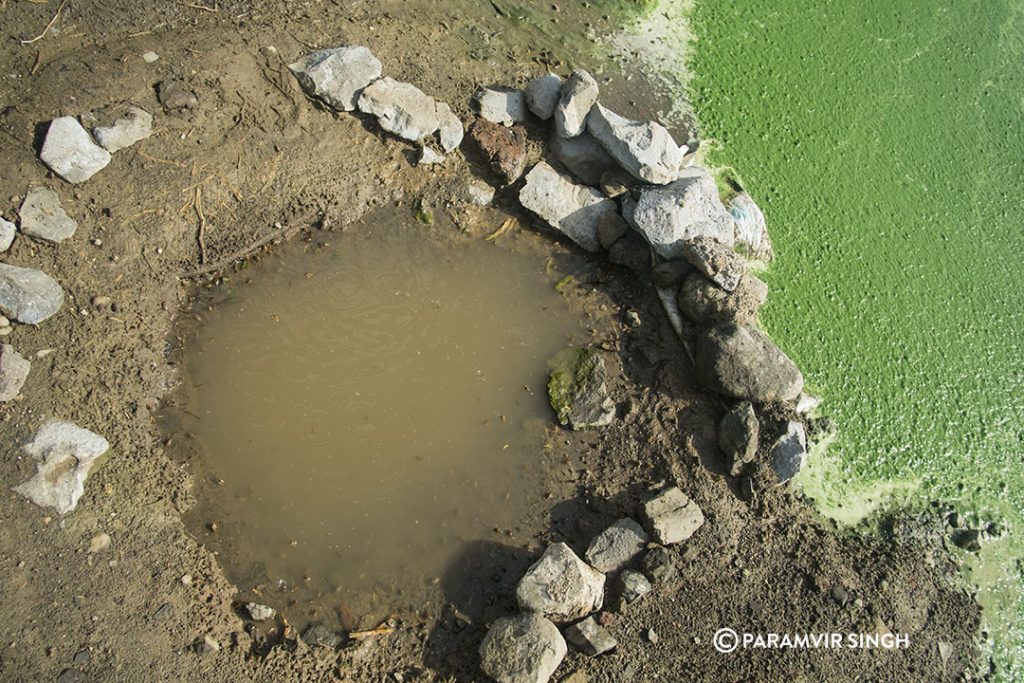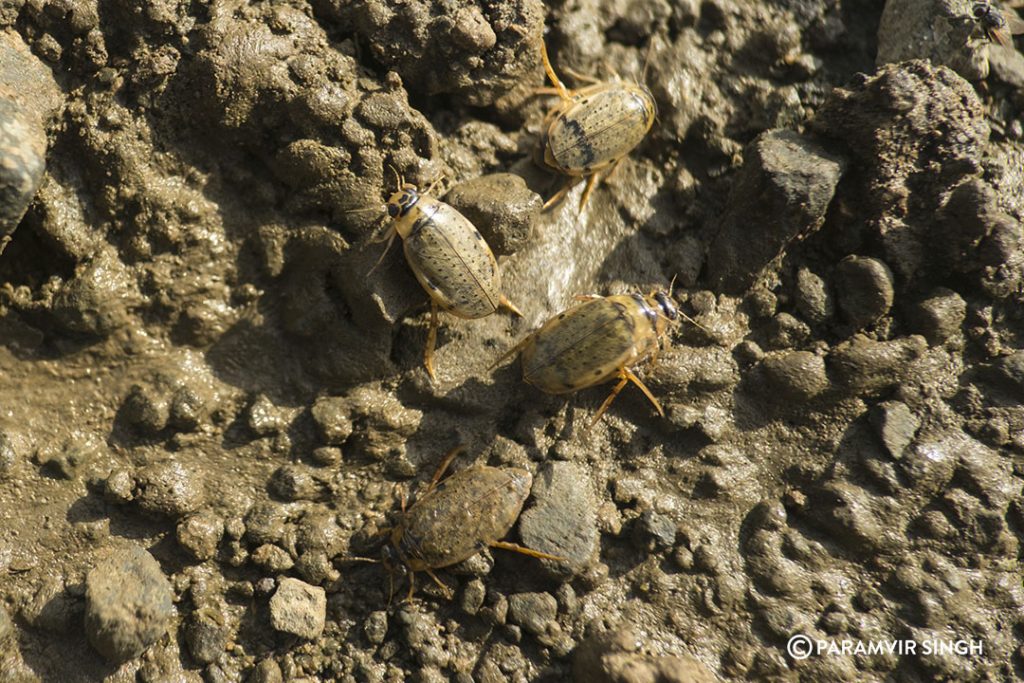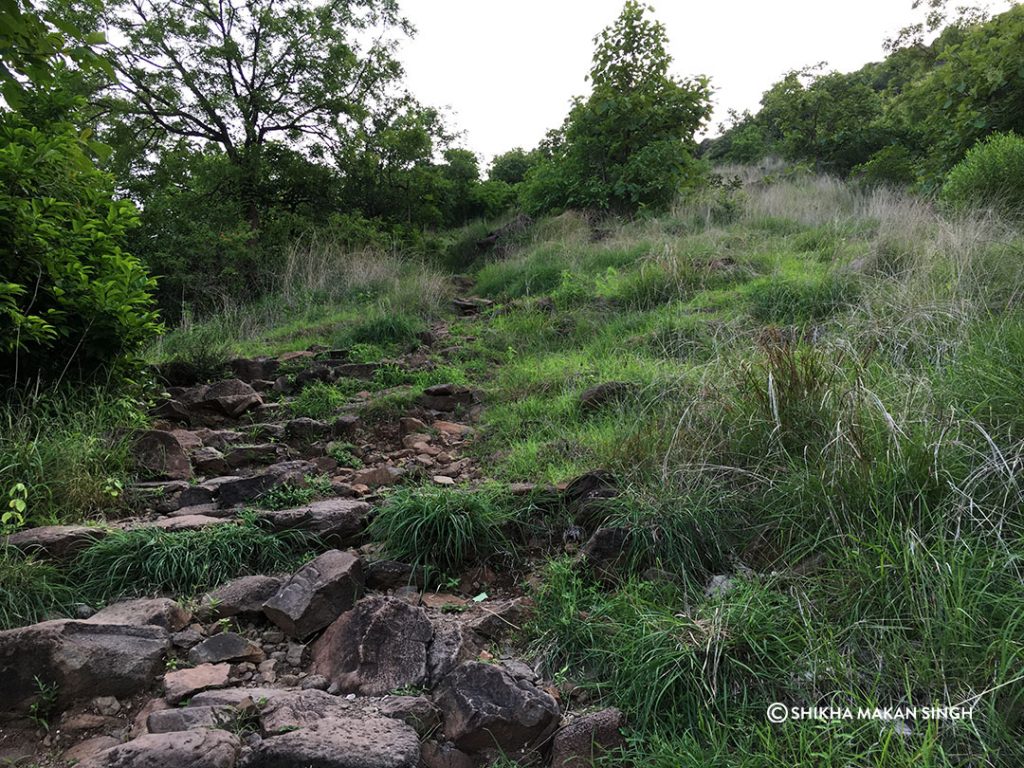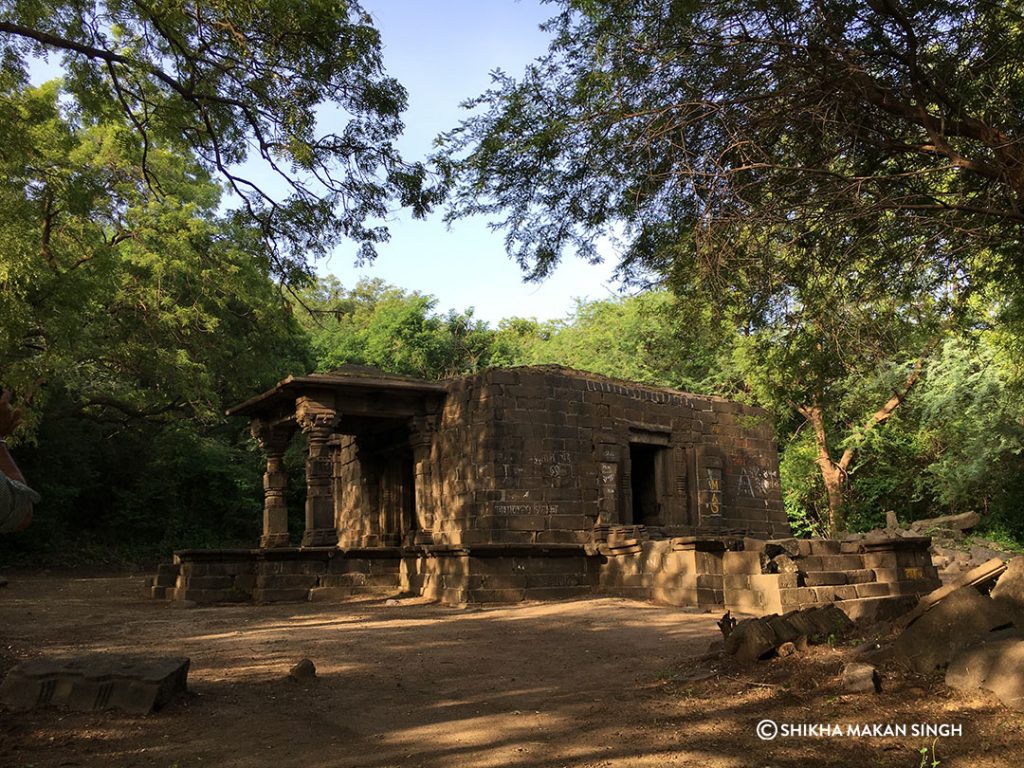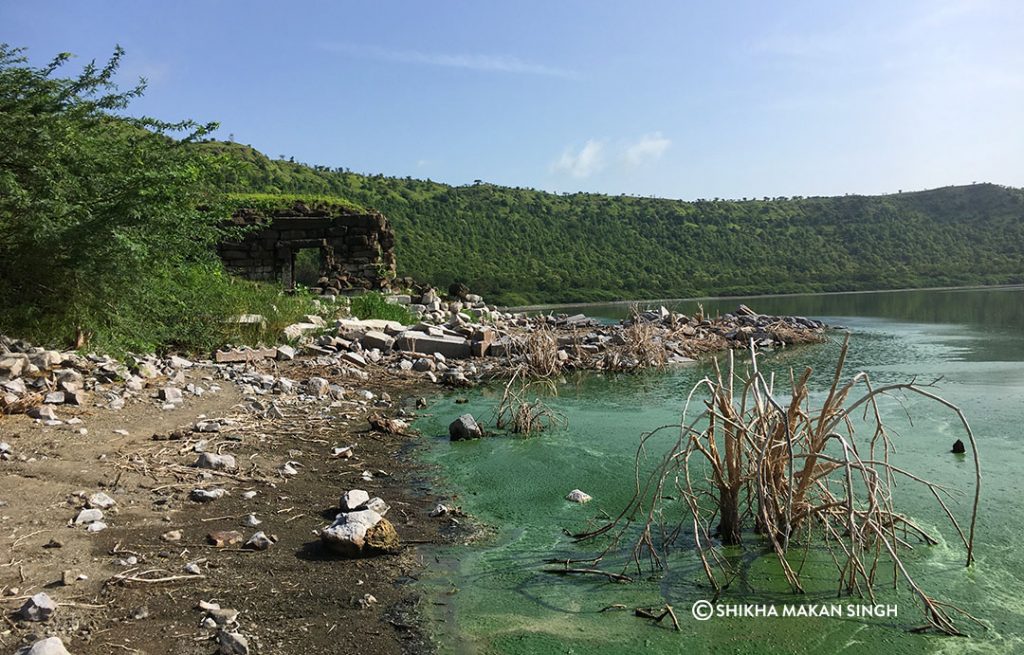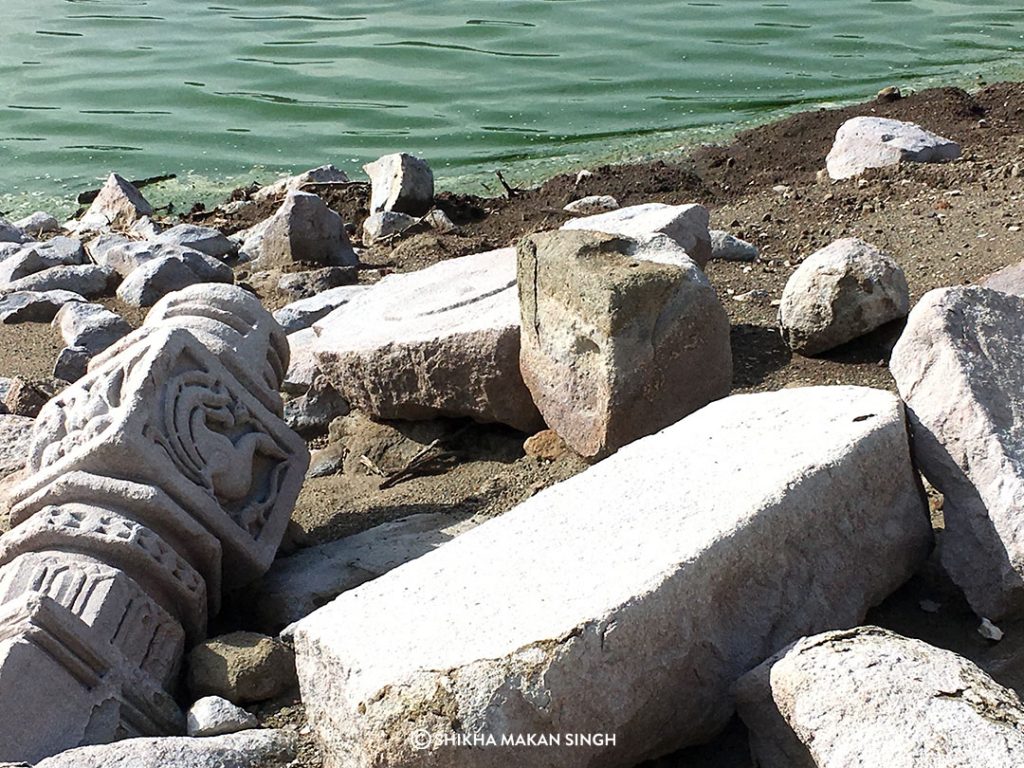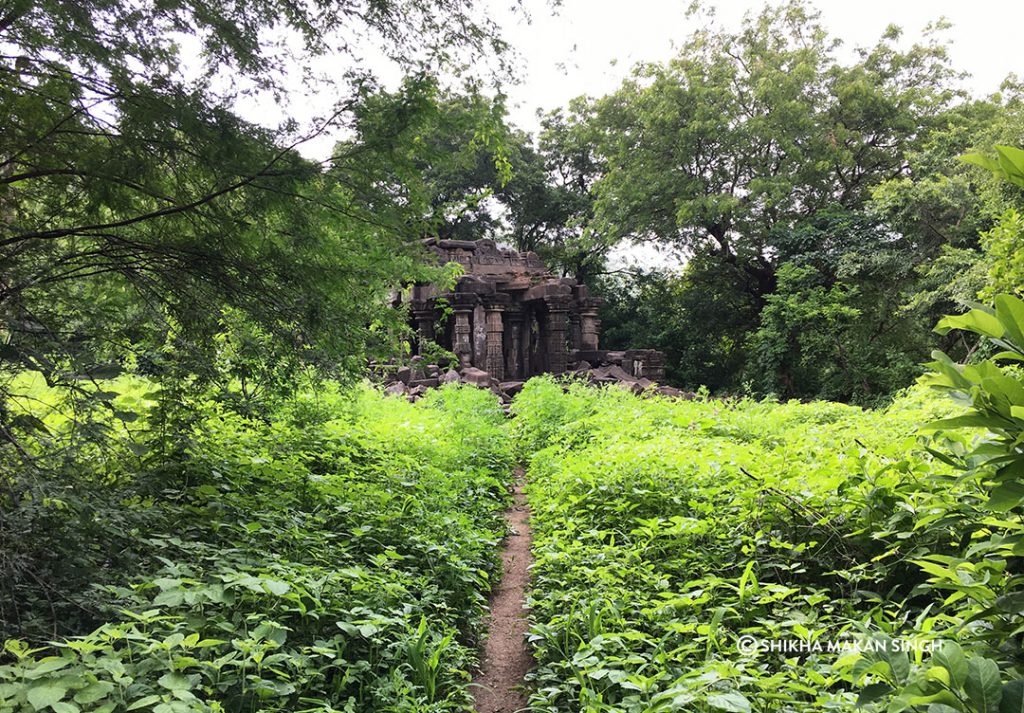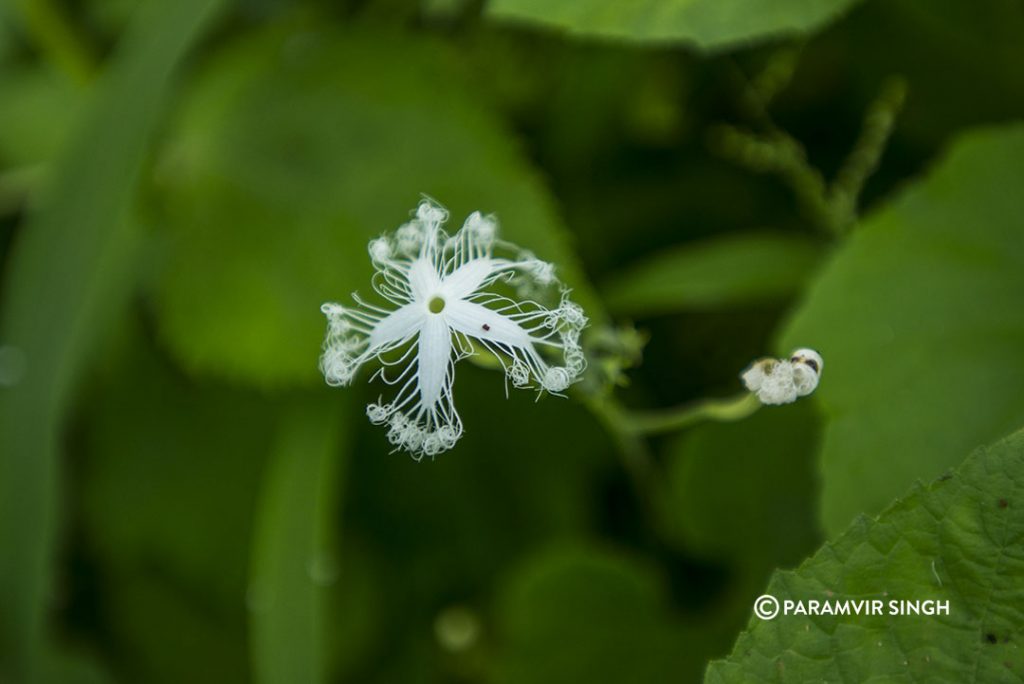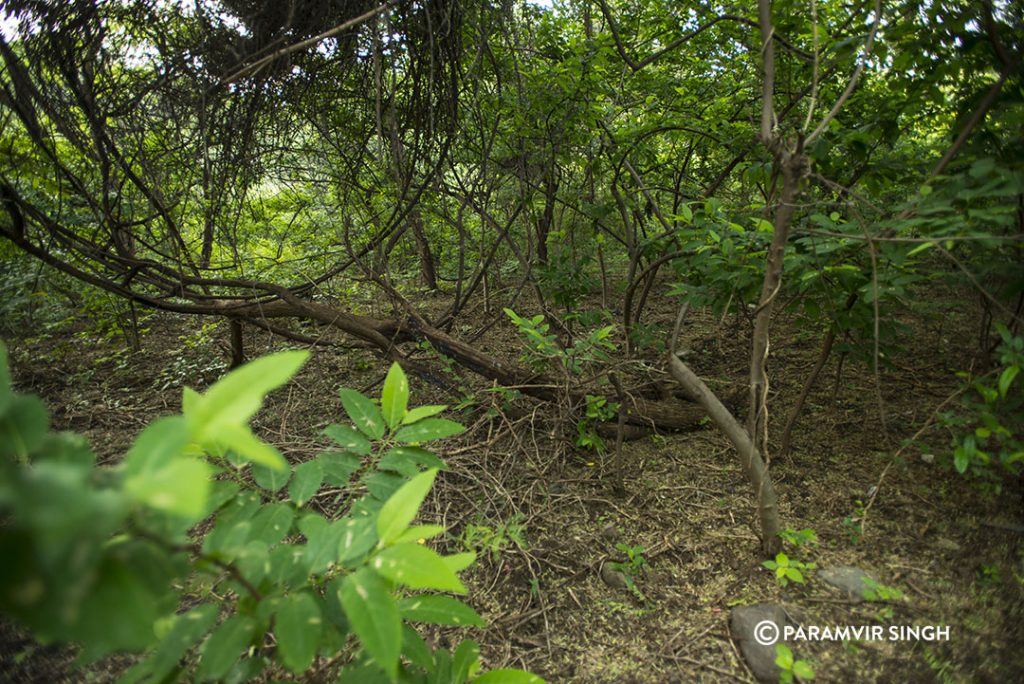 *The Turmeric pH test: Curcumin, the active ingredient in turmeric, is a pH indicator. Under a pH of 7.4 turmeric will remain yellow, but when added to substances which have a pH above 8.4 (Alkaline) it turns a dirty deep red.
The lake waters smell because of the hydrogen sulphide content. It's normal. One wonders about what minerals must have been present on the meteor which came from outer space and what kind of a giant explosion it must have created.
We had found an excellent 'guide' in Lonar, and strongly recommend visiting the crater with him. Drop us an email at admin at desicreative drop com in case you need his phone number. You will need someone who can take you around.
Apart from the Lake, Lonar has many ancient temples, including the 10 around the Lake. We shall publish a separate post dedicated to the ancient temples of Lonar.
There is a small circular lake about 700 metres from the main Lonar lake, which is believed to have been created by a splinter of the same meteor.  There is a Hanuman temple near this lake, with the idol made of rock believed to be highly magnetic. The water from Little Lonar Lake is being drained by local farmers. The smaller lake is called Chhota Lonar or Ambar Lake.
Read about the Lonar Crater Lake in more details here at Wikipedia.
[box type="success" width="100%" ]When to visit: As is with most places in India, winters are the best time. Summers are too hot and the lake waters would be very low. Monsoons, it rains a lot.
Where to stay : MTDC has a fabulous and inexpensive hotel right next to the crater. That's the best place to stay here, although there are a couple of lodges. Email us for numbers.
How to visit : Lonar is 4 hours by road from Aurangabad and 8 hours from Pune. Its about 12 from Mumbai.
How long to visit: Keep your visit to a minimum of three nights. The first night you reach and crash. The second day, start the day early for a 6am trek. It will take around 5 hours if you visit each of the ten temples in details. You need a third day to visit the other ancient temples in the town of Lonar. If you had a fourth day, you could drive around, its a beautiful place.
What to wear : Since much of the visit will be a trek through a forest, do be prepared, wear full sleeved clothes to avoid insect bites, wear good water resistant boots, since you will be walking n the muddy lake banks.[/box]