Not far from Ranthambhore National Park, barely some 60km away is the magnificent Chambal River, famous for its ravines and once considered the land of dacoits. If you are around, do make it a point to go for the Chambal River Safari, looking for migratory and resident birds, the critically endangered Ghariyal (Gavialis gangeticus), the Muggermuch (Indian Crocodile, Crocodylus palustris ), Smooth Coated Otters (Lutrogale perspicillata) and many other species native to this eco-system.
The 960 km long Chambal River originates at Singar Chouri Peak on the northern slopes of the Vindhyan Range and flowing through Madhya Pradesh and Rajasthan, it joins the Yamuna in Uttar Pradesh at Jalaun district. The banks of this river were once famous for the Chambal Ravines with its infamous dacoits. Phoolan Devi also operated amidst the ravines of Chambal.
To book a Safari, head out to Khem Villas or call them and book one. You will be taken, along with a small picnic basket to the Ghariyal Conservation Trust, (which has rather nice views and excellent clean toilets), from where a boat with a knowledgeable naturalist will take you for a ride into the waters. Carry binoculars, since most of the animals are very shy and will not be approached. After the safari is over come back to the terrace, luxuriously sip a cup of chai and if you so wish, go for a walk into the thick forest. The Safari SUV will drop you back to where you came from. On the way back you will pass forested regions of the Ranthambhore and Keladevi National Park and if lucky, you can spot a Tiger, Leopard or a Sloth Bear.
These ravines, the calm flow of the river and once abundant greenery around created a unique riverine eco-system, which is home to the Ghariyal. Named after its 'ghara' (earthen pot) like snout, these gentle and shy fish-eating reptiles have thrived here for many many centuries, until recent human encroachments, dam building, agriculture and its related chemicals, fishing, hunting, excessive noise levels etc have reduced their populations to about 200 only.
These waters are also fantastic habitat for Smooth Coated Otters, Muggermach (Indian Crocodile), many species of Turtles, and the endangered Gangetic River Dolphin. Red Crowned Roof Turtle, Striped Hyena, Indian Wolf, Indian Narrow Headed Softshell Turtle, Three Striped Roof Turtle, Crowned River Turtle, Indian Flapshell Turtle, Soft Shell Turtle, Indian Roofed Turtle, Indian Tent Turtle, Monitor Lizard, Golden Jackal, Bengal Fox, Common Palm Civet, Indian Small Mongoose, Indian Grey Mongoose, Jungle Cat, Wild Boar, Grey Langur, Rhesus Macaque (the common monkey you find in north India), Sambar, Nilgai, Blackbuck, Indian Gazelle, Northern Palm Squirrel, Porcupine, Indian Hare, Indian Flying Fox, Hedgehog etc can be found here.
Being a Ramsar site Chambal has 320 species of resident and migratory birds. Vulnerable species include Indian Skimmer, Sarus Crane, Pallas' Fish Eagle and Indian Copurser. The Pallid harrier and lesser Flamingo are near threatened. Winter visitors include Black Bellied Terns, Red Crested Pochard, Ferruginous Pochard, Bar headed Goose. Resident species include Great Thick Knee, Darters, Brown Hawk Owl, Cormorants, Indian Small Pratincoles etc. The government's forest departments and some non-government organisations are doing a commendable job in conserving this precious eco-system, but they need our support.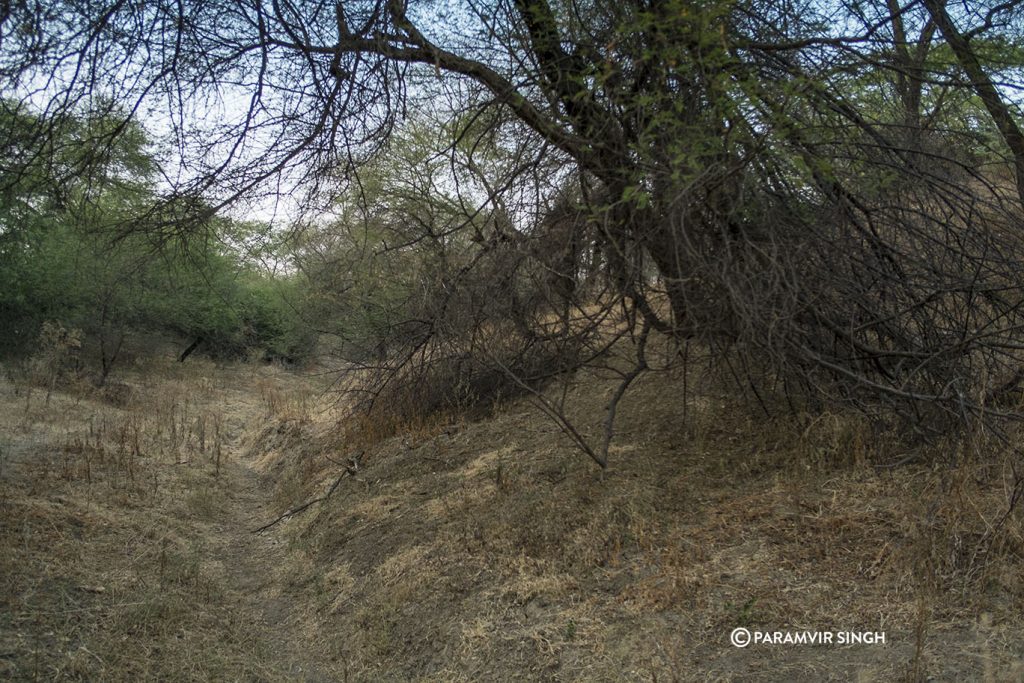 [box type="success" width="100%" ]How To Reach: Chambal Safari can be booked from Khem Villas at Ranthambhore National Park.
What To carry: If you have a pair of binoculars, do not forget them or ask the good folk at Khem Villas to bring some. Carry a cap and sun glasses. Water, fruit juice etc. Do not leave any trash behind. if you have a bird and animal guide book, carry it.
What To Wear: It can get rather hot in the sun, so dress appropriately. Always wear muted earth colours when going into nature. Be quiet, these animals are shy and will go away.
Best Time To Visit: Although summers have their own charm, winters are when you get the see teh migratory birds. November till March is a good time. Summers are good for many animal sightings (except migratory birds) and monsoons is a no-no.
[/box]