Not many people may have heard of this over 300 year old festival in Anandpur Sahib, called 'Hola Mohalla'. Celebrated on the day after Holi, it's a crazy grand festival of the Akali Nihangs, the original warrior Sikhs, considered the personal favorites of Guru Gobind Singh.
It was Guru Gobind Singh himself who had established this festival at Anandpur Sahib. It's a day of poetry, prayers and display of martial skills, including equestrian skills which the Nihangs are so good at.
I have always wanted to visit this festival, but the month of March is filled with work. This year, we decided to just go for it, and an invite from a friend in Una, Himachal Pradesh, only helped.
Unfortunately not much information is available online in a cohesive manner about Hola Mohalla. In our attempts to look for information, we missed some crucial moments. But by and large, this is how it happens:
Hola Mohalla is celebrated on the day after Holi. Find the date of Holi, and it's Hola Mohalla the next day. Reach the historic Gurudwara of Keshgarh Sahib at Anandpur Sahib, really early in the morning, like maybe 6/7am if you want to listen to the recital of Kirtans and Gurbani. Jathas (groups) of Nihangs walk between Gurudwaras Lohgarh Sahib, Mata Jito Ji Gurudwara, Qila Fatehgarh Sahib and Keshgarh Sahib. Its a great photographic opportunity. There are thousands of devotees who pour in from everywhere on cars, tractors, trucks, anything… there is a Langar (a community meal, designed to ensure people from all walks of life sit and share a meal together), almost every 30 meters, so you don't have to worry about the food. For the equestrian display, head over to Charan Ganga Stadium on the Naina Devi Road. It's more like an empty field. But reach early, most of the stuff is over by around 2 pm.
Having never been to my ancestral village in Punjab, a desire has always been to make that trip happen some day. Whilst at Anandpur Sahib, we took a little break at the Gurudwara Lohgarh Sahib, only to discover almost my entire village folk there, helping out in the Langar service (Seva). What a delightful coincidence. They recognised by grandfather and great grand fathers and made us feel really special, sat down with us over a meal and took care of our expensive cameras while we chatted.
This year was more like a recce, and we plan to go more prepared the next time.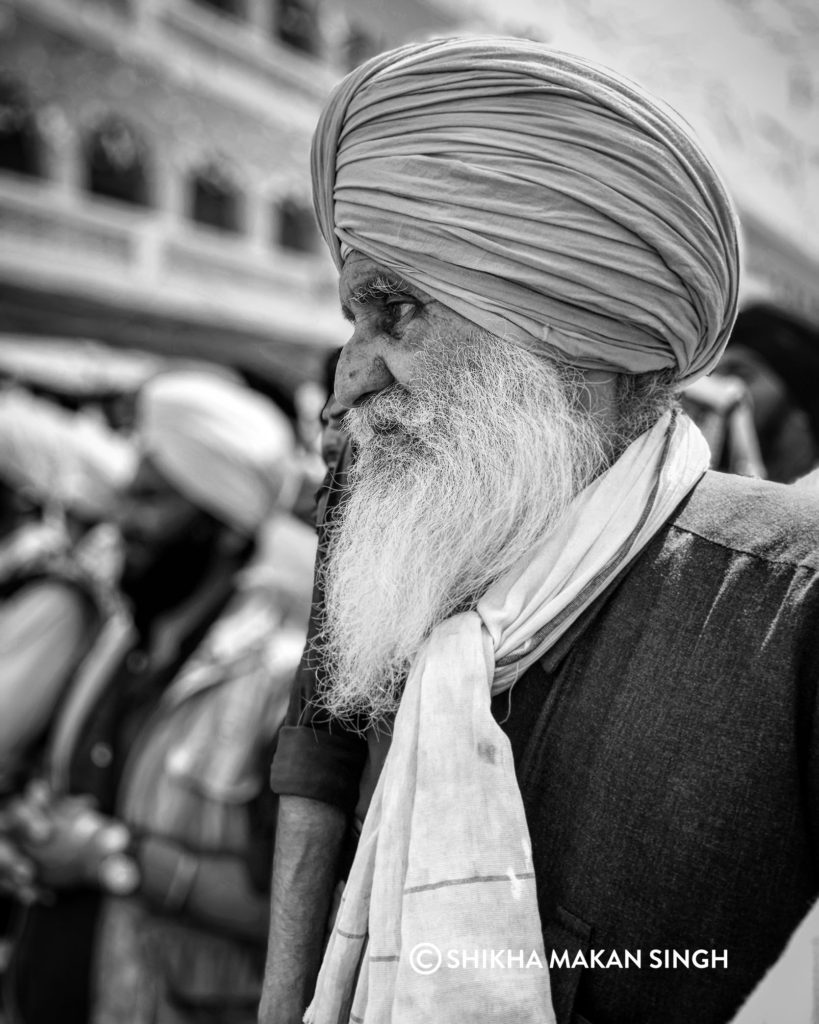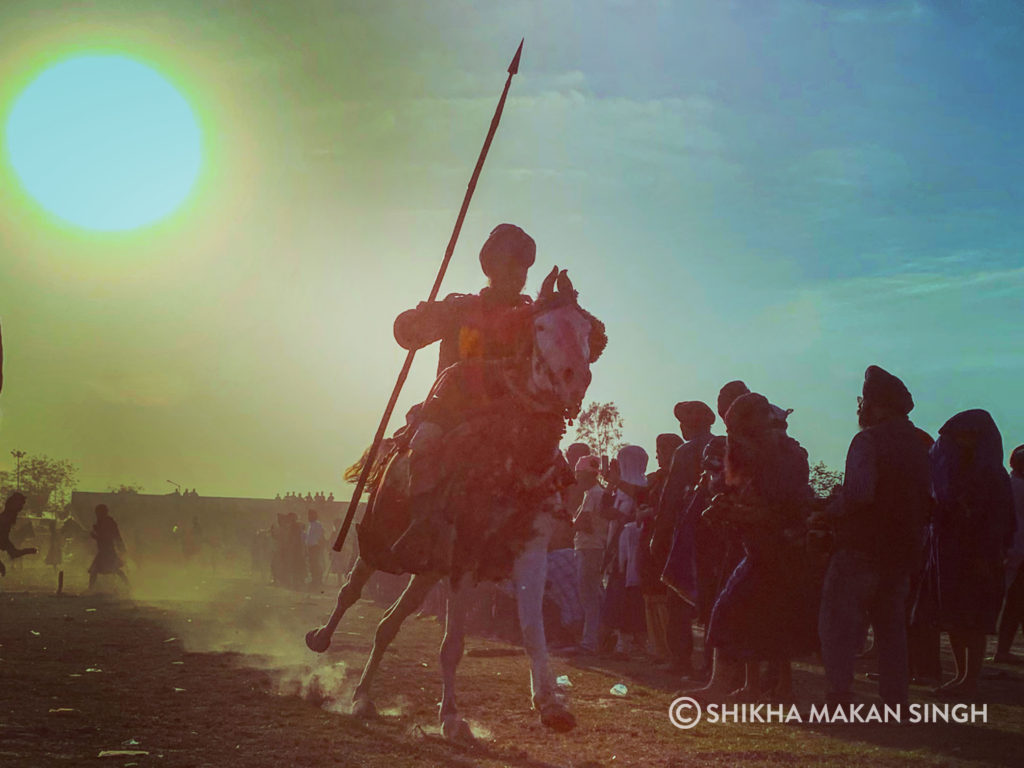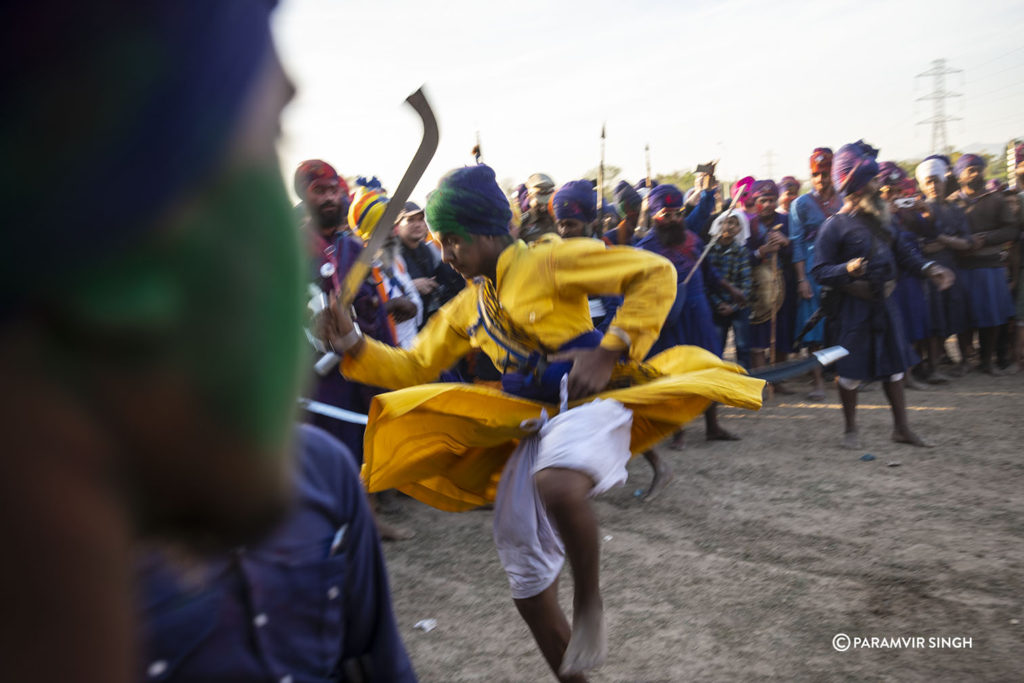 Then comes this crazy talented Nihang Singh riding three horses!
When to visit Hola Mohalla : The festival of Hola Mohalla takes place in the month of March at Anandpur Sahib, a day after the festival of Holi. Check out the Holi date and Hola Mohalla is exactly the day after. In March the weather is hot during the day and cool at night. Prepare accordingly.
How to reach Anandpur Sahib: The nearest airport is Chandigarh, or Ludhiana. One can take a train to Anandpur Sahib as well. We drove in.
Where to stay: There are many stay options at Anandpur Sahib. Book them well in advance else they will be sold out. Check out Anand At The Sutlej for luxury camps by the river Sutlej, one of the Five Rivers Of Punjab.
Anything else? It's a religious cultural gathering, dress modestly, do not carry alcohol or cigarettes with you, and do carry long lenses for your camera. And you may want to carry your own water bottles. You are welcome to grab a meal/snacks/tea etc at any of the langars. You are also welcome to enter any of the Gurudwaras as long as you keep your head covered and shoes outside.