In the end of October 2016, we had driven down to Spiti Valley from Mumbai. We went through Jaipur – Chandigarh – Sarahan – Sangla – Nako and finally we reached Kaza. Most of the Spiti Valley is a high altitude cold desert, and as such water is scarce and so is the vegetation. And in the middle of all this are remote attractions like the key Monastery.
There are two ways to reach Kaza. One is via the Manali – Rohtang Pass – Kunzum Pass – Kaza. This route stays shut in the winters. The second is via the Kinnaur Valley, and this route is open throughout the year (except for extreme weather and or landslides). We had taken the second route as we wanted to see the beautiful Kinnaur Valley, and also because we were travelling when winter was settling in.
The weather and journey to Kaza is harsh but we found a very warm and comfortable stay at Deyzor Hotel. It is run by Skalzan Dorge and Karanbir Singh. Deyzor means peace and happiness in Buddhism. The place is charming and enriched with soulful verses on the walls. Karan and his staff run Deyzor with a family like touch, and you feel very much at home.
Kaza mornings, in the end of October are super cold, with a wind chill that is biting. Night temperatures dropped to something like -10 and peak day was around 6 degrees Celsius. You feel like being in the sun all the time.
The Key Monastery is very close to Kaza, and we decided to pay it a visit first thing in the morning. The Key Gompa is said to have been founded by Dromton (Brom-Ston, 1008-1064 C.E) a pupil of the famous teacher Atisha Dipankar in the 11th century. Over the years, it has been the subject of many attacks and rebuilds. The current architecture is the result of this constant destruction and construction. We were greeted by a resident monk who shared with us interesting stories and history of Key. The Dalai Lama had stayed at this monastery in 1972. The monks stay in this cold wilderness for years together studying and practising Buddhism and the deeper meaning of human life. At one time there can be more than 180 monks staying here.
From Key Monastery, we drove to Kibber. At an altitude of 4270 metres, Kibber air can leave you gasping. It's a tiny village, beautiful in it's simplicity and sparseness. Surrounded by the Kibber Wildlife Sanctuary, this place turns a lush green in the summer months.
From Kibber we decided to visit Langza. This whole region was once under water, so in Langza, you can scout around for prehistoric marine fossils. It's also known as the 'Fossil Village' and enroute, the road construction workers tried selling us some fossils.* By this time we were starving and there isn't any place to eat. The only option was to ask a local for food. Our knock on a village door was answered by the wonderful Norbu, who was more than happy to invite us home. We were treated to the most amazing thukpa, garnished with some local herbs whose name I forget, and were given some sweet 'Sattu Ladoos' (little sweet balls made of ground roasted Bengal gram, milk fat and dry fruits) for the way back. They lasted us the next couple of days! How loving and friendly are these village folk!
The simplicity of life of the people here is unimaginable to our urban-cluttered minds. Angdui Norbu (full name) had only once gone as far as Simla, away from Langza as he recounts. The city appeared to him chaotic to say the least, and he wondered how alienating would a metro be for him. His 3 little children go to school, the eldest one has found his way to Dharamshala and is in 8th standard (in 2016), the younger ones attend primary school in Langza. For further studies children from this village have to go to Rekong Peo or Kullu. It was very heart warming for Norbu to have welcomed us, when we were going to find nothing to eat for kms together. He now looks forward to hosting guests in his place as a homestay.
The water that reaches Langza comes from a Glacier 14 kms away. There are only 30 homes, with a population of 160 people. When in Season, they farm potatoes and green peas.
Then Norbu also entertained us recounting the story of his great grandfather Dhumbo Chharing, who once met a fairy. She was so beautiful that Dhumbo was smitten by her and asked her to come home with him. The fairy insisted that if he promises to not fight with anyone ever, she will marry him. They reached home, and Dhumbo got drunk and told everyone that he has married a fairy. No one believed him and in his drunk state he ended up fighting with everyone and so the fairy disappeared.
The beautiful world we live in is our fairy. If we all fight, it will disappear too.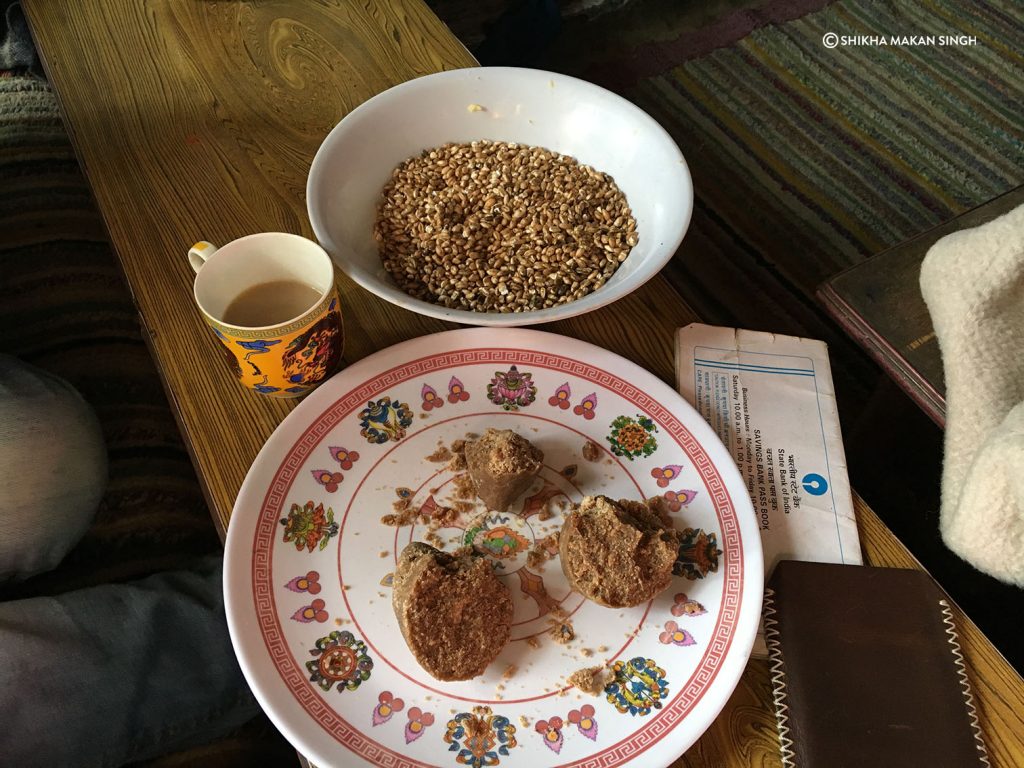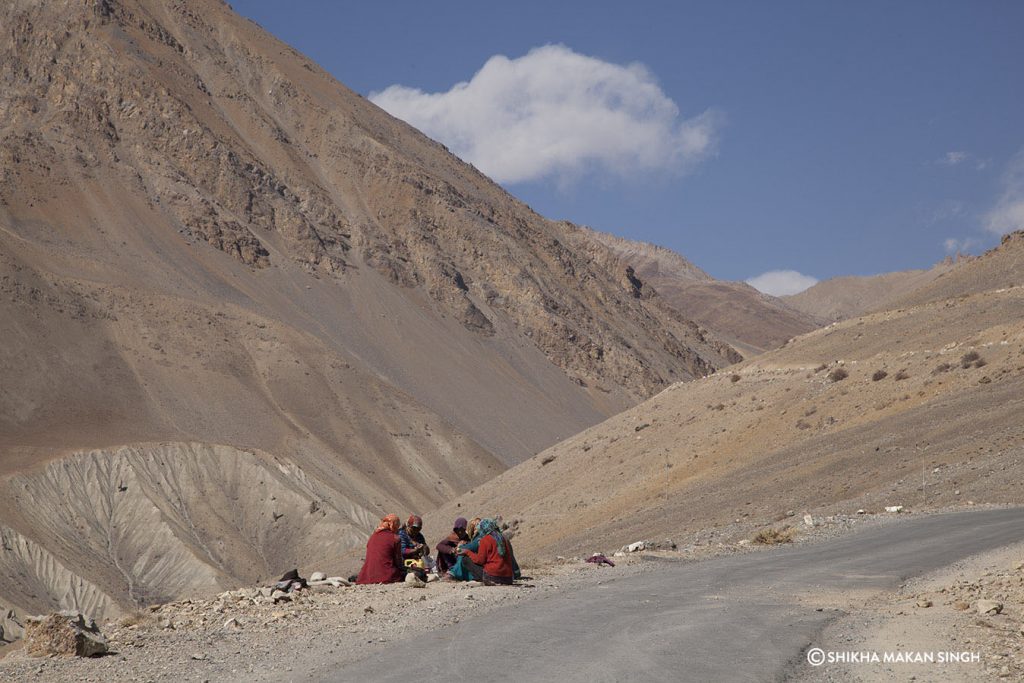 * I generally decline such purchases. Kaza gets millions of visitors annually and each one takes a relic home, the region would have nothing left. However if the villagers had made something which is sustainable, I support them whole heartedly.
[box type="success" width="100%" ]How to reach : Kaza can be reached only by road. There are two routes : One from Manali – Rohtang Pass. This route is shut almost half the year for winters. The other route is longer and is via Kinnaur Valley. This route is open throughout the year.
When to visit : The beauty of any landscape is different in different seasons. We went in early winters and loved it. But it was bitter cold. In summers, when the ice melts, its greener too.
What to do: Thankfully till now Kaza hasn't become over commercialised. You can go for treks, wildlife and landscape watching, rent a bicycle, read book, enjoy the weather or chat with the villagers.
What to expect : Harsh weather and thin air. You may get altitude sickness. You may not be able to tolerate the cold. Since electricity is sparse, and low voltage, you may not get room heaters and hot water in many places. Expect to get stranded in land slides. But it is all fun.
What to eat: Local food! Keep asking for local food. You will get plenty of thukpa, momos, rajma, black dried peas. Ask for sea buckthorn tea. Or Jaun Ke recipes (Barley, its eaten in various ways). Drink plenty of water, and don't waste it. This is a desert.
[/box]
This post is part of our Mumbai to Spiti By Road Trip. Other posts part of this trip are Sarahan, Sangla Valley, Sangla to Nako – Kaza, Kaza – Key, Kibber, Langza.