A close couple came with the idea of travelling somewhere with 9 days of leave that were possible on a particular week at the end of October, 2016. We tossed out a couple of ideas, and froze on Spiti Valley. It would be just perfect, very cold, but not snowed shut. They would be able to join us from Chandigarh and we had some work in Jaipur. It was becoming too much to book so many tickets. We decided on driving all the way!
Thus began our grand Mumbai to Spiti Valley Road Trip.
As part of our road tripping rules, we never drive after dark. And we often spend leisurely time taking pictures and on meals or soaking in a great landscape. We have often driven Mumbai to Udaipur and from there to Jaipur. We knew we could do Jaipur to Chandigarh in one day. Studying distances on maps, we felt we could do Chandigarh to Sangla, some 350 km, in one day too. But we hadn't factored in broken, winding, gravel roads, landslides and AMS (Acute Mountain Sickness) into account.
Our plan was Mumbai – Udaipur – Jaipur – Chandigarh – Sangla – Kaza.
So Mumbai to Chandigarh was a breeze. We had some great time with work and hanging out in Udaipur, then work and shopping for some last minute woollens and snacks in Jaipur followed by Chandigarh. With Sangla on our minds, bookings in place, we left at around 5 am (wanting to have enough daylight on hand) and quickly reached Shimla in time for breakfast. Unfortunately Shimla wasn't ready, and most places hadn't opened their kitchens yet. We waited for a while at the lovely HPTDC Pine Wood hotel, but they would only serve about 40 minutes later so we carried on and grabbed parathas on the way.
The roads began winding more, traffic worse, and we started slowing down, recalculated and realised it wasn't possible to reach Sangla before dark. We started looking for the next best alternative and decided on Sarahan, a small picturesque Himalayan village.
One night at Sarahan and then we set out for Kaza. But barely out of Sarahan, at breakfast time, I was stumped by AMS. Not having slept well, winding roads, rising altitude and dehydration took its toll. We had some khichdi made for me, I had to give up the driver's seat, and we rolled on. When hit by AMS, you are advised to hydrate (drink plenty of water in small sips), eat light non-oily stuff, eat plenty of garlic, and rest well. We had realised by now that we will not be able to reach Kaza in one day and decided to halt at Tabo. By around lunch time we reached a horrid stretch of almost non-existent road which continued for about 100km till about Pooh. In this stretch, we got stranded in a landslide for over 2 hours. Thankfully we had the khichdi to keep hunger pangs away and the snacks we had carried all the way from Jaipur.
Replan. Stop at Nako instead of Tabo.
After the landslide and over 100km of gravel winding road, we managed to reach Nako in the dark. I was still smarting from AMS. The cold was bitter enough but the breeze was piercing. We only managed one room in a guest house.
The next morning, we thought we should be prepared to reach Tabo instead of Kaza, keeping landslides and road conditions in mind. We did reach Tabo by lunch time, but all was shut because of the cold. We decided to move on to Kaza and reached just as daylight was fading. We were lucky enough to have carried snacks and parathas with us from Nako.
So our final route was:
Mumbai – Udaipur – Jaipur (only for work) – Chandigarh (to pick up our friends) – Sarahan – Sangla Valley – Nako – Kaza.
(Udaipur and Jaipur often factor as stopovers because of convenience. Mumbai too Udaipur is a comfortable one day drive, Jaipur is pushing it. Udaipur is also a city we love, hence repeated visits).
On the way back, we didn't want to come back the Manali route, so we took the same route:
Kaza – Pooh – Rampur – Chandigarh – Jaipur – Udaipur – Mumbai.
Both ways of the journey we were asked to be fearful of Sumdoh, (between Nako and Tabo) a region full of flying rocks, high speed winds, treacherous gravel roads and frequent landslides. An entire 100km plus of road till Pooh (from Kaza direction) is made of gravel. Roads here are maintained by the excellent guys at Border Roads Organisation (BRO), and they work day in and out. But the Himalayas being young fold mountains, are very unstable and frequent landslides keep the roads, well, dynamic. Around Sumdoh a BRO guy will be seen warning you of flying/falling rocks, and giving you a green signal to move ahed when things are clear.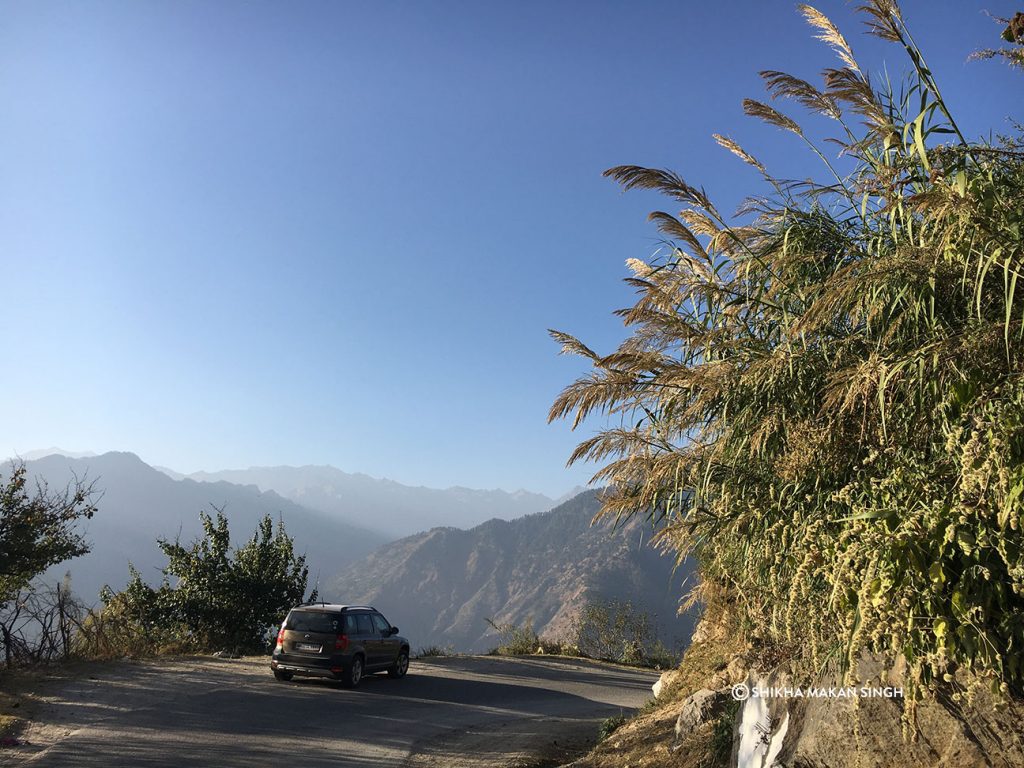 Precautions: It's a long road trip and one must be prepared. Here's what we recommend:
Visit your doctor and ask for medicines for AMS, diarrhoea, nausea, headache, looses and any other medicines you may be taking regularly.
Carry some multi-vitamins Garlic capsules, and a first aid kit.
Plenty of dry fruits and snacks for the journey. There will be long stretches without food, during lunch hours.
Enough re-usable bottles of water. We actually ended up buying very little bottled water.
Thermals, woollens, scarves, beanies, gloves, whatever to keep you warm. Gloves come in handy when you want to be photographing in chilling weather.
Hot water bottles. In remote regions, in chilling weather, you often won't have electricity for heaters. Hot water bottles will keep you very warm and comfortable.
Get your car/bike a complete checkup. Ensure all tyres are in good condition, including the spare.
We carried a portable tyre inflator pump, powered by the car's lighter socket. Very useful. Also carry a tyre repair kit, and learn how to use it.
A small tool box. Pliers can be handy in pulling out nails from tyres, while the hammer very useful, god forbid, in case of accident to break open the windshield.
Plenty of toilet paper, toiletries, hand sanitisers.
Cash. Most highway fuel pumps, restaurants etc won't accept cards.
Offline maps on a modern smartphone. In many parts of the journey, you will not have a cell-phone network. Offline maps can continue to guide you. Ensure your phone is on roaming.
Battery chargers, flash lights, spare batteries for the flashlights, a Swiss Army Knife.
This post is part of our Mumbai to Spiti By Road Trip. Other posts part of this trip are Sarahan, Sangla Valley, Sangla to Nako – Kaza, Kaza – Key, Kibber, Langza.