Lakes, Heritage, Silver and sunsets! Winding lanes turn the golden light into a maze of shades and long shadows. Inside the walled city an aura of history envelopes you through the many arches, bridges and ghats. The mysteries of opulence melt into shimmering waters! Suddenly you get drenched in a colourful explosion emanating from a painted window. And then you take a flight up the stairs only to get arrested by the beauty of the white majestic Lake Palace, like you spotted a floating jewel. That's Udaipur for you. A poet's dream, a lovers' paradise and a fable maker's favourite fantasy. There is not another city in India that is more enduring than this city surrounded by seven lakes and a princely past!
Udaipur perhaps features as a top tourist destination in the traveller's map. But for the imaginative types this is a must experience place for all kinds of inspirations. Especially, if you are bent towards making those perfect photographic images!
So we went to one of the most romantic cities in India and yes found ourselves amidst a million beautiful frames. You can experience Udaipur like a royal sojourn or discover its heritage with people on the streets.
First we indulged in a few must do things. A stay at the beautiful, lake side Ameth Haveli, expensive for its Venice like experience, ate at the most popular Ambrai restaurant, enjoyed the enthralling views of lake palace and the city palace in the soft winter morning light and dazzling moonlit nights. Almost all and every roof top restaurant in Udaipur opens to these unforgettable views to Lake Pichola, which is indeed the highlight of Udaipur.
Northwest of Udaipur, a visit to Shilpgram the crafts village gives you a glimpse of what village life is like. You can listen to live folk music, watch a performance and definitely buy a hand woven shawl!
As the temperature began to cool, we climbed up the hill through Sajjangarh Wildlife Sanctuary to reach the Monsoon Palace to get your moments of awe as the sun goes down on the city. As we retreated back we took a circle around the Fateh Sagar Lake.
The next few days was focussed on food!! We treated ourselves to the delicious Laal Maas & White Mutton at several roof top restaurants, never disappointed. Then binged on, Kadhi (made from besan and curd) cauilflower subzi and bajra rotis with jaggery. To relax after a heavy binging spree we found a beautiful corner in the awesome Bagore Ki Haveli, with triptych windows overlooking the lake. What a sight! As the night came on the same Haveli turned into a performance stage. Men and women in colorful Rajasthani attires took center stage, giving us a glimpse of the traditions of Rajasthani tribes, in dance and music. The swirling ghagharas in ghoomar and the resounding sarangi resonating through the walls of the Haveli!
The explorer's appetite can never be fulfilled in this enduring city. On our last day we further drove out and away from lake Pichola to experience another lake on the outskirts of Udaipur and had a refreshing tea at a dhaba. Our final goodbyes came with a ceremonious meal of Rajasthan's tradition dal bhaati churma. Satisfied but not satiated we left Udapir vowing to be back soon!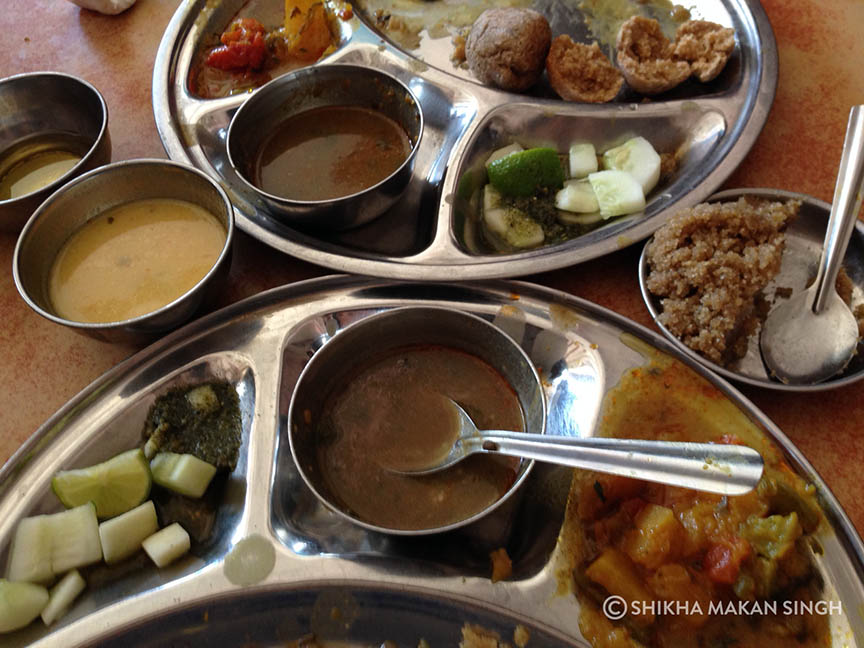 [box type="success" width="100%" ]How to reach: Udaipur is well connected by air, train and road. Where to stay: try and stay around Lake Pichola. There are many places. You could try the Kankarwa Haveli, or the Amet Haveli. amongst others.[/box]