Perhaps one of the world's best known Parks, Yosemite National Park is part of the beautiful Sierra Nevada Range in California. A visit to this natural preserve is highly recommended. And like any other travel, where you accomodation is crucial. So here is our little guide on where to stay while visiting Yosemite National Park.
The best place to stay, if you want to experience the Park from up-close, morning till next morning, is of course inside the park. Inside Yosemite are 13 campgrounds, some are reservable in advance, some available on a first come first served basis.
For a premium luxury stay, try The Majestic Yosemite Hotel, built in a building from the 1920s. Then there is the Yosemite Valley Lodge (near Yosemite Falls), The Big Tree Lodge sporting authentic Victorian architecture with charming verandahs and lush environs, White Wolf Lodge which is a rustic central lodge along with canvas tents set in a wildlfower field but 30 miles from Yosemite Valley, the canvas tent cabins at Half Dome Village, Housekeeping Camp (three sided concrete walls, canvas roof and privacy curtain), Glacier Point Ski Huts, Tuolumne Meadows tent cabins, High Sierra Camps, and 13 other sites with campgrounds and RV parking. These can all be accessed via the National Park Service website. Be sure to check weather reports before travelling and book well in advance to avoid disappointment.
Well, so much for advice. We couldn't book well in advance and were travelling in winters (March) from San Francisco. So the option open to us was the South Entrance. Searching around we found plenty of stay options. But we chose the Narrow Gauge Inn at Fishcamp which is 36 miles from Yosemite Valley. The distance sounds much, but was manageable because our visit was off-season, wonderful roads, disciplined traffic and our own rented vehicle.
And we loved the Narrow Gauge Inn so much that we felt it deserved its own post. It has 26 rooms with private decks and wonderful views. The property itself is perched on a hill with tall alpine trees, plenty of bird and animal life around. The rooms are very tastefully done, the linen warm and cozy. During our off-season stay in winters, the in-house dining was only serving breakfast, but during season they serve lunch and dinner as well.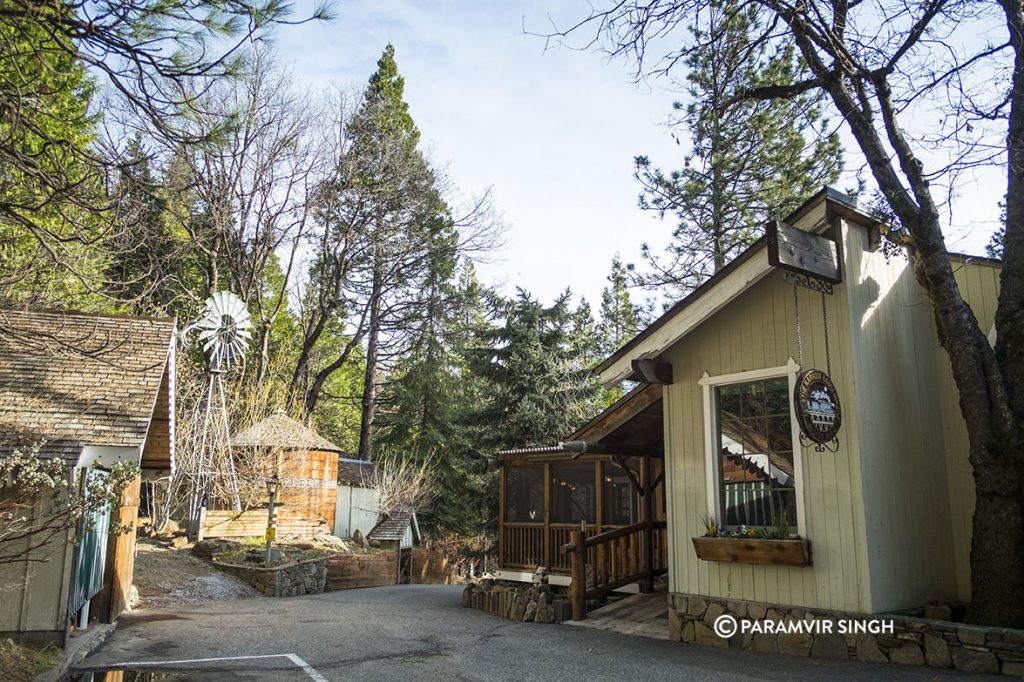 The Narrow Gauge Inn was built in the 1950's as the Swiss Melody Inn by Swiss immigrants Rudy and Luce Stauffer. They also restored and operated the Yosemite Mountain Sugar pine Railroad, which is located next door to the Inn. Eventually, Rudy and Luce sold the Inn, however their son Max still operates the Railroad and Luce can often be found helping out during the summer months. Over the years the Inn has changed several owners, but the original warmth remains!
When To Visit: Any time is a good time to visit Narrow Gauge Inn. The winters are snow covered and have their own charm. Spring brings waterfalls and summers, wildflowers. But book well in advance from their website.