Probably nothing conjures to the mind more cinematic visuals than the thought of Death Valley National Park. And behind the morbid name is a large, beautiful piece of land with its own rich bio-diversity.
A land of extremes, the Death Valley national Park has mountain peaks draped in winter snow and it has areas like the Furnace Creek where summer temperatures touch 57 degrees Celsius. The Telescope Peak on the Panamint Range is 3368 metres above sea level, while the Bad Water Basin is 82 metres below! While much of the park is drought hit, rains can cause flash floods. These intense factors create a unique ecosystem and landscape which is like none other one would have seen. Death Valley National Park is a must visit, and we strongly suggesting visiting in Spring or just after the rains when the wildflowers blossom in abundance.
The best way to see the park is, of course, by living inside it. But we hadn't book well in advance and had to look outside. That could have been a good thing since we ended up staying at Lone Pine, a picturesque town at the foothills of the Alabama range. Death Valley was almost 100 miles from Lone Pine, but the Visitor Centre was right next door.
The drive to Lone Pine itself was gorgeous and as we approached day light started fading but we could see the vastness and the beauty in the landscape. There were wildflower shrubs on either side of the road painting the entire ground in a wonderous yellow.
But it didn't still prepare us for what we saw inside the park. Death Valley is perhaps the most gorgeous landscape we have visited. Vast empty stretches of wilderness with straight roads. Shrubs on either side with the odd Joshua Tree holding out. If you looked carefully, and stood still long enough, (which is difficult considering the park is so huge and you want to see more of it) you will start seeing the wildlife. Birds, little rodents, pollinators… This place has its own bio-diversity.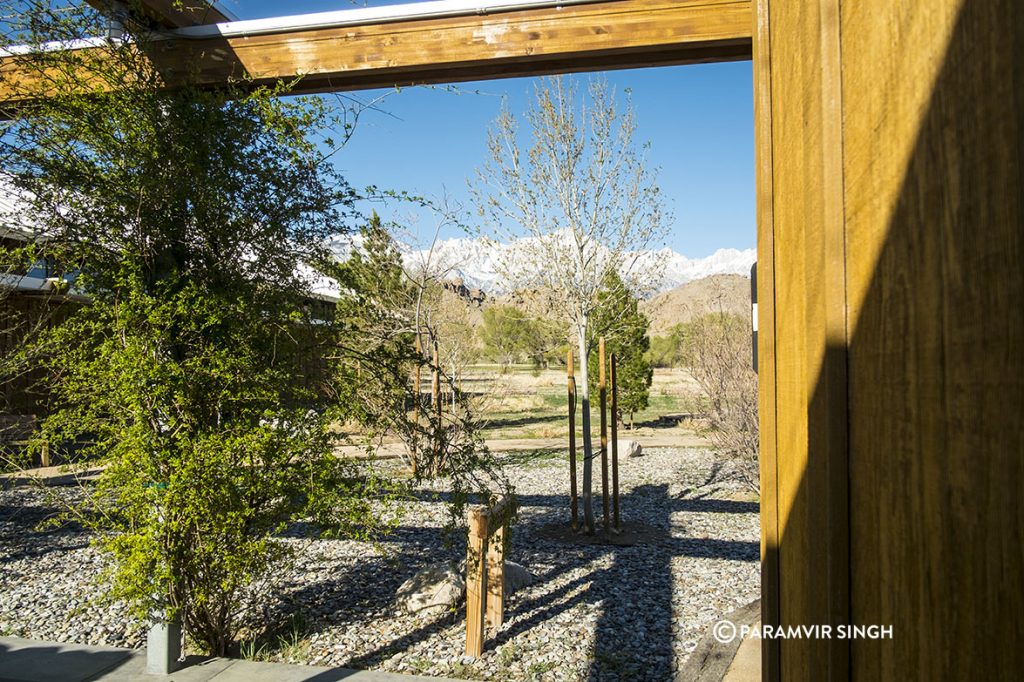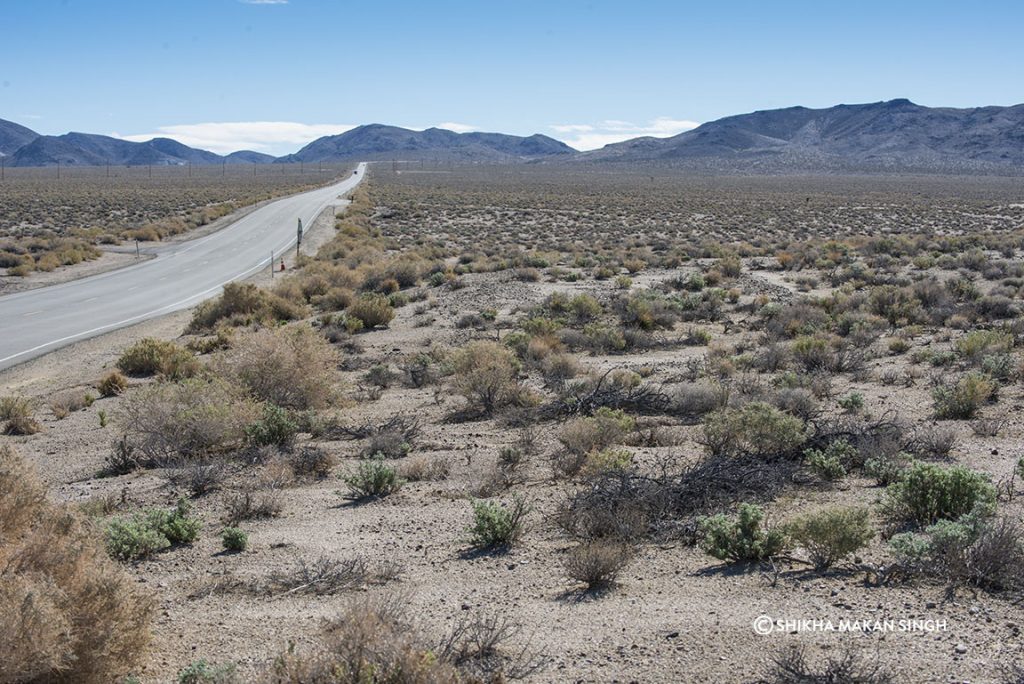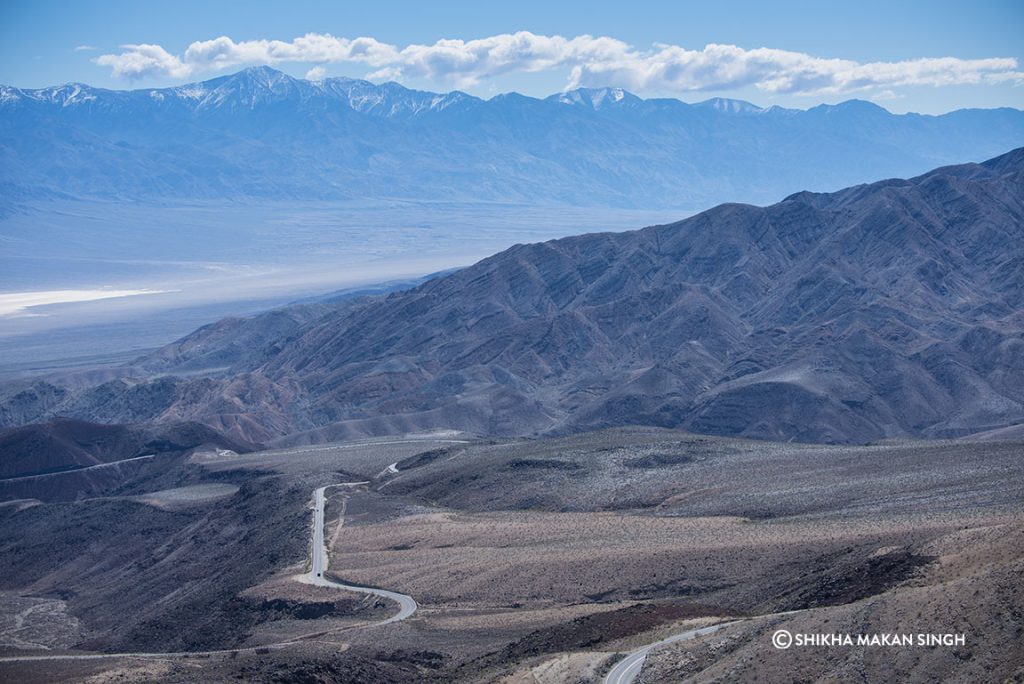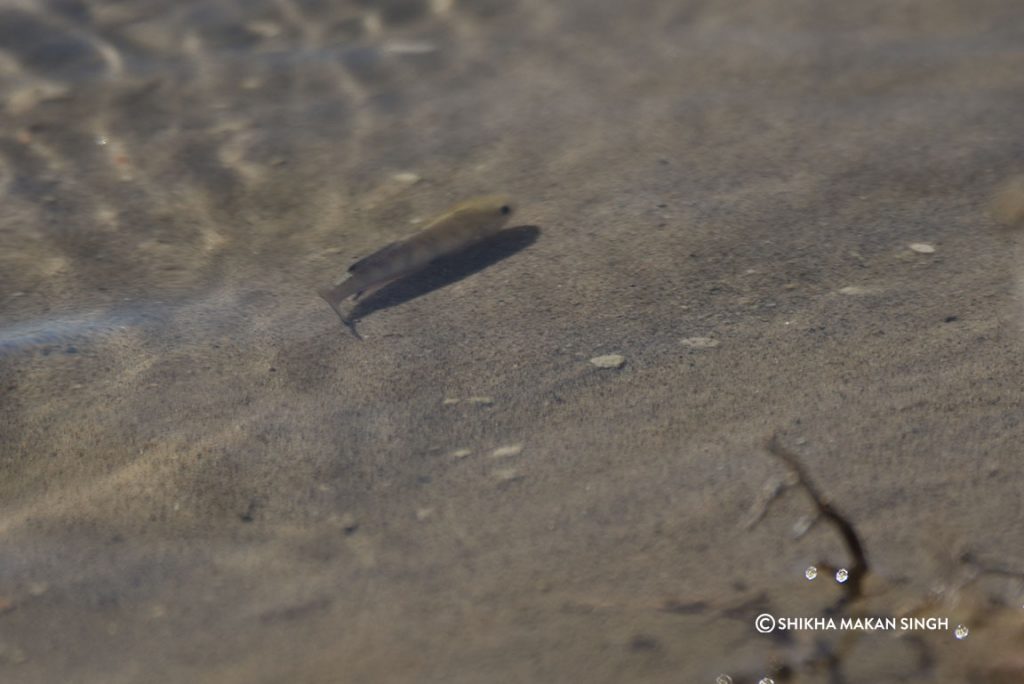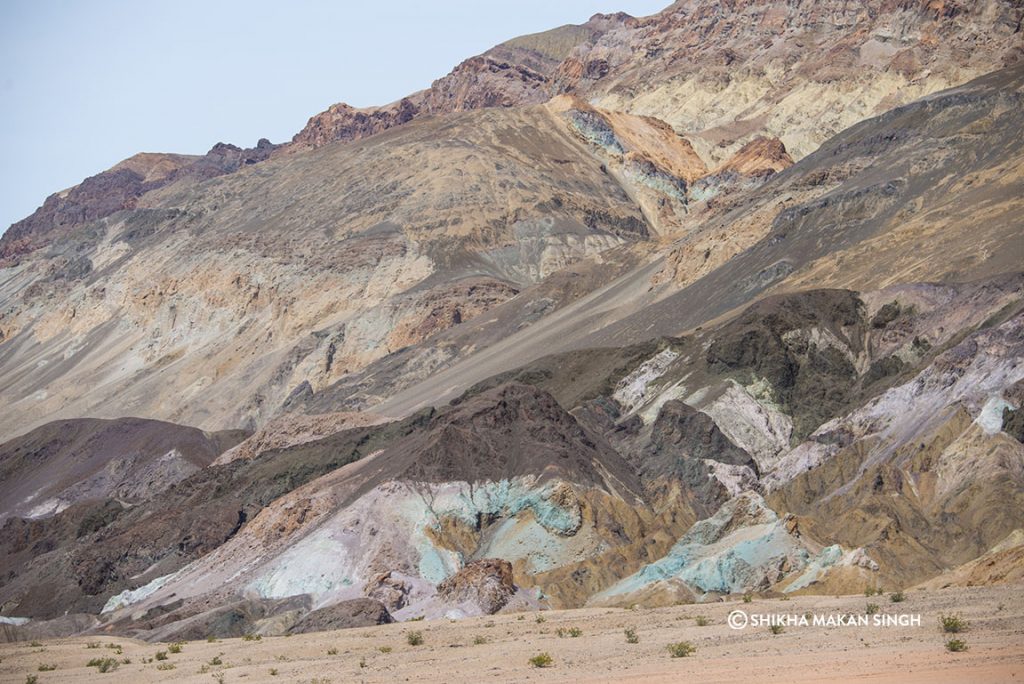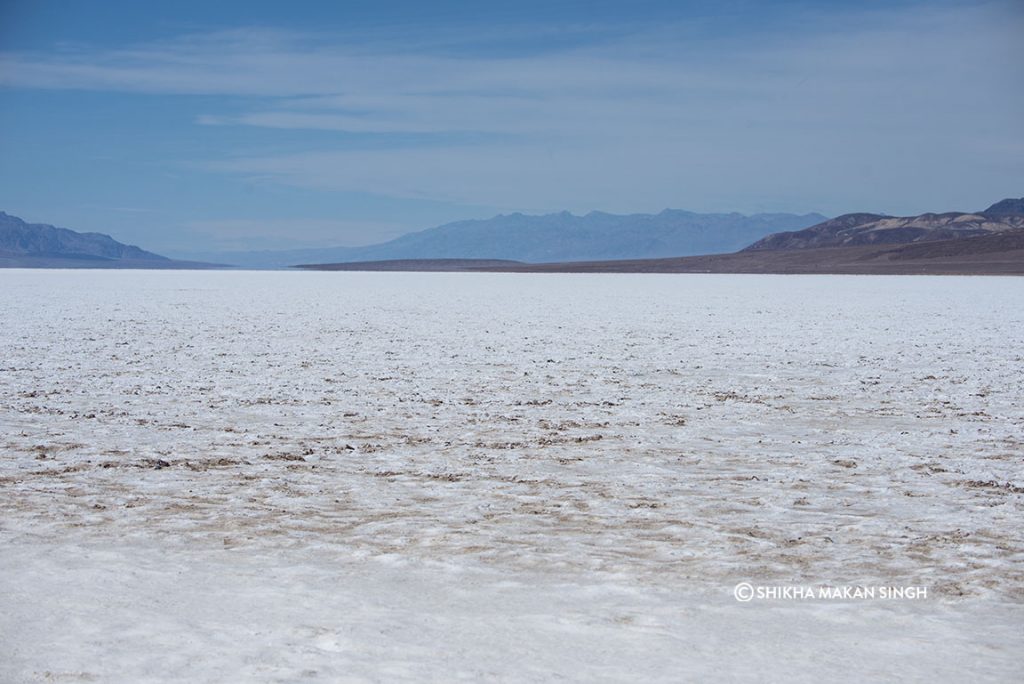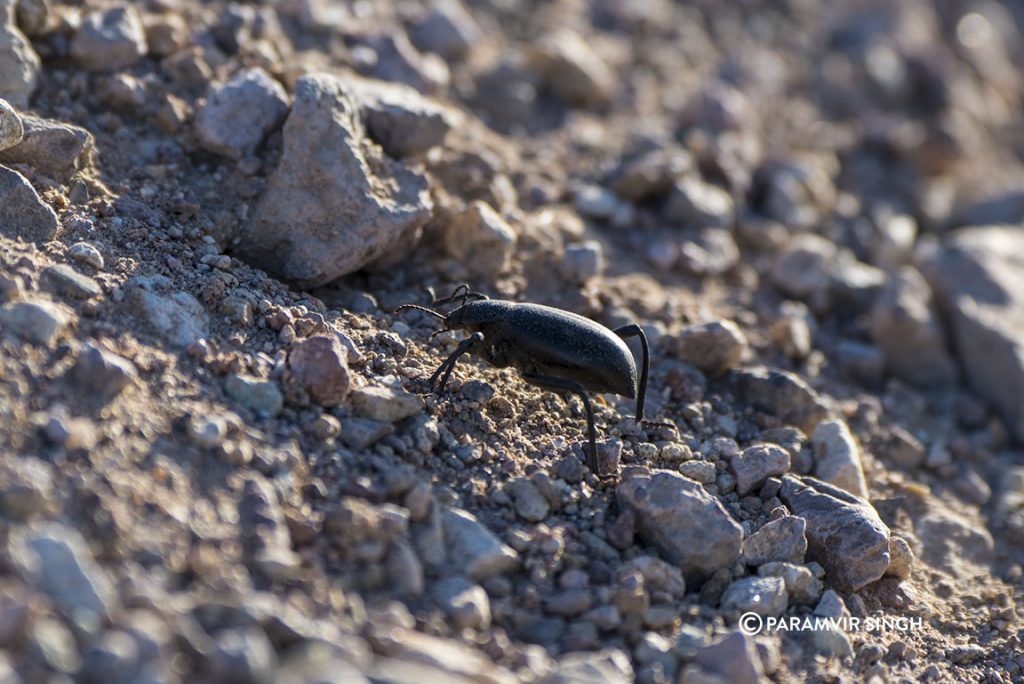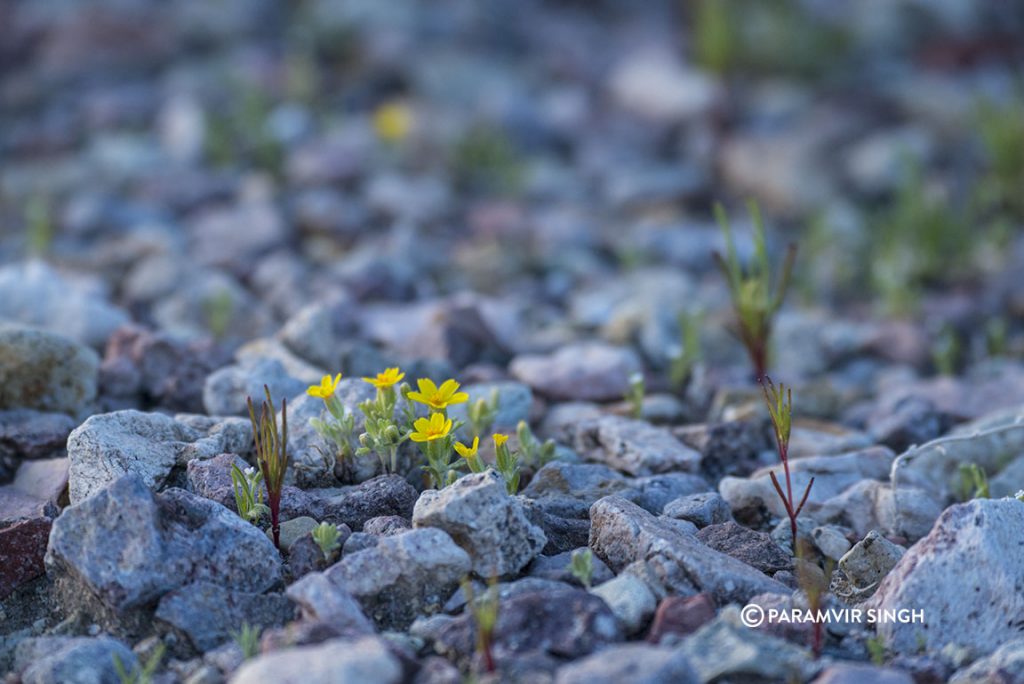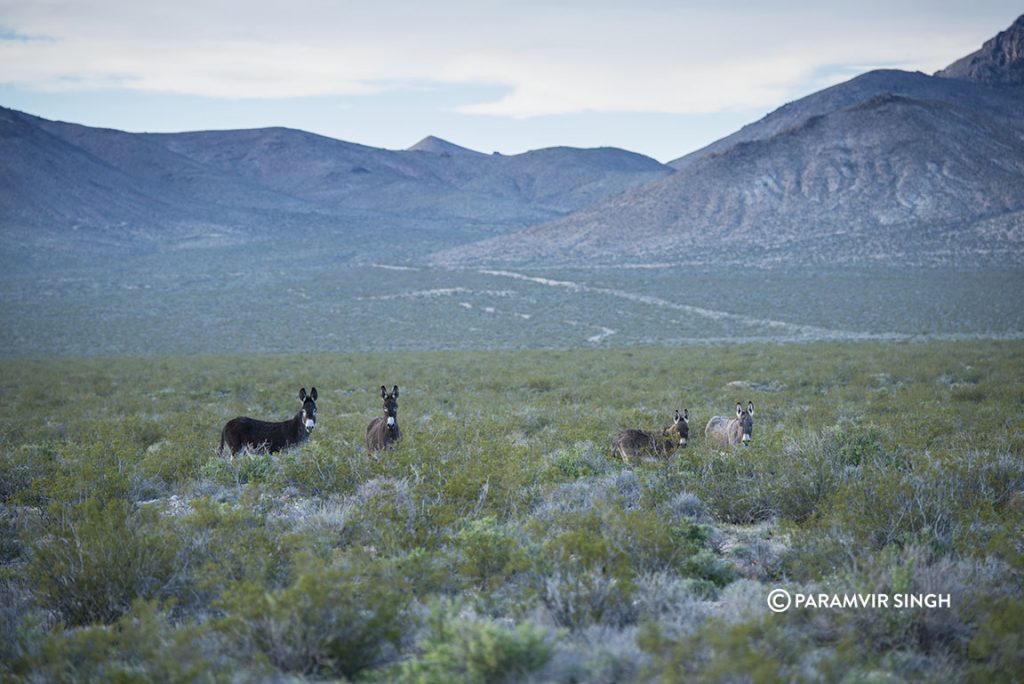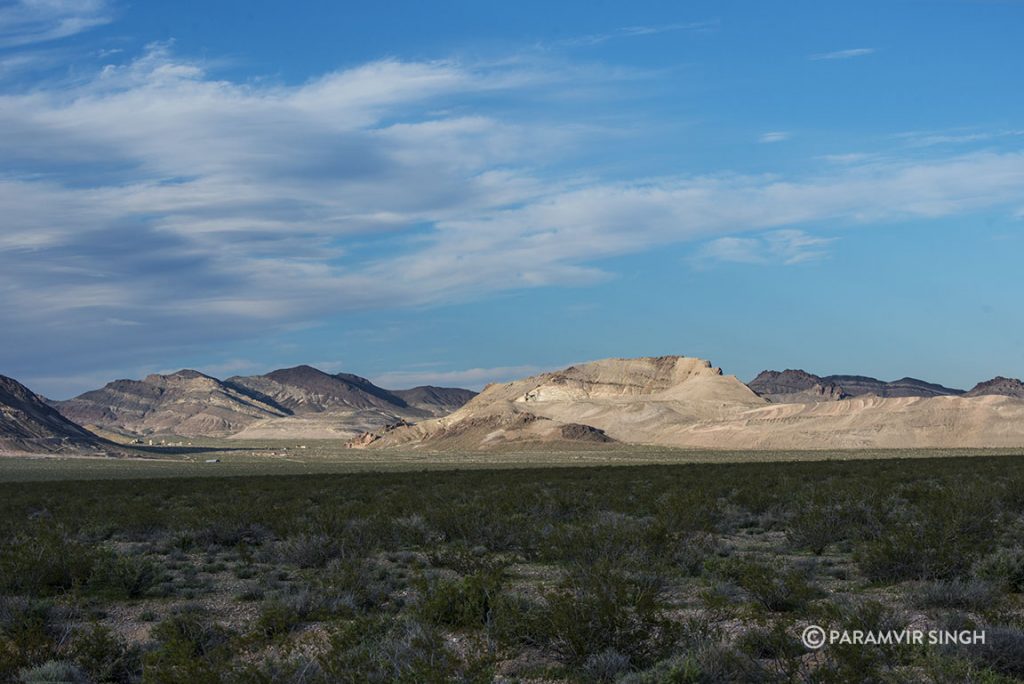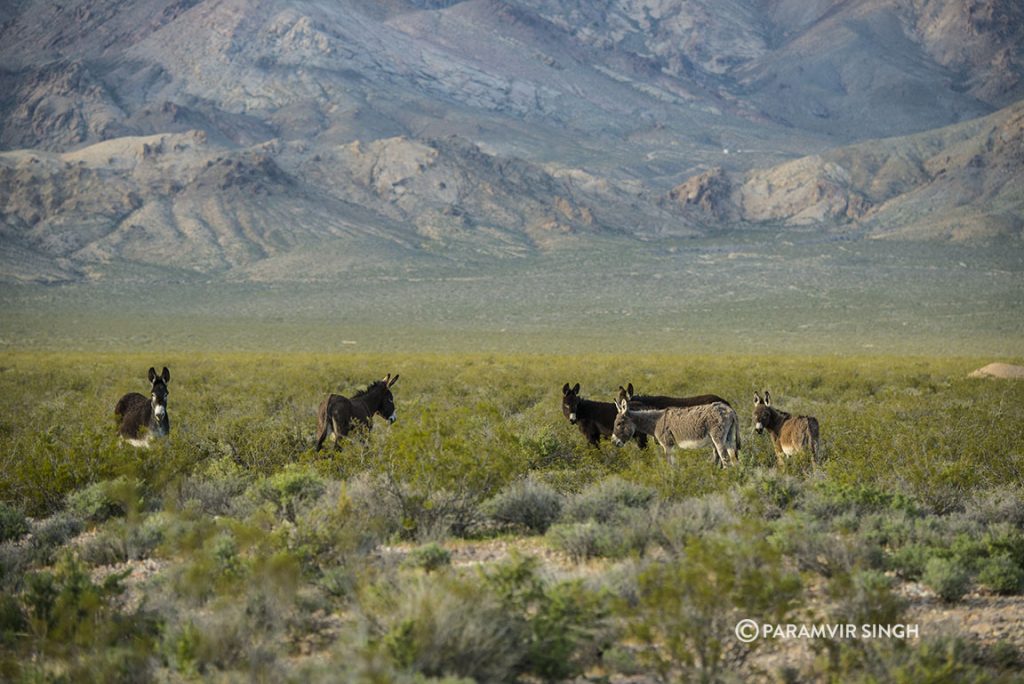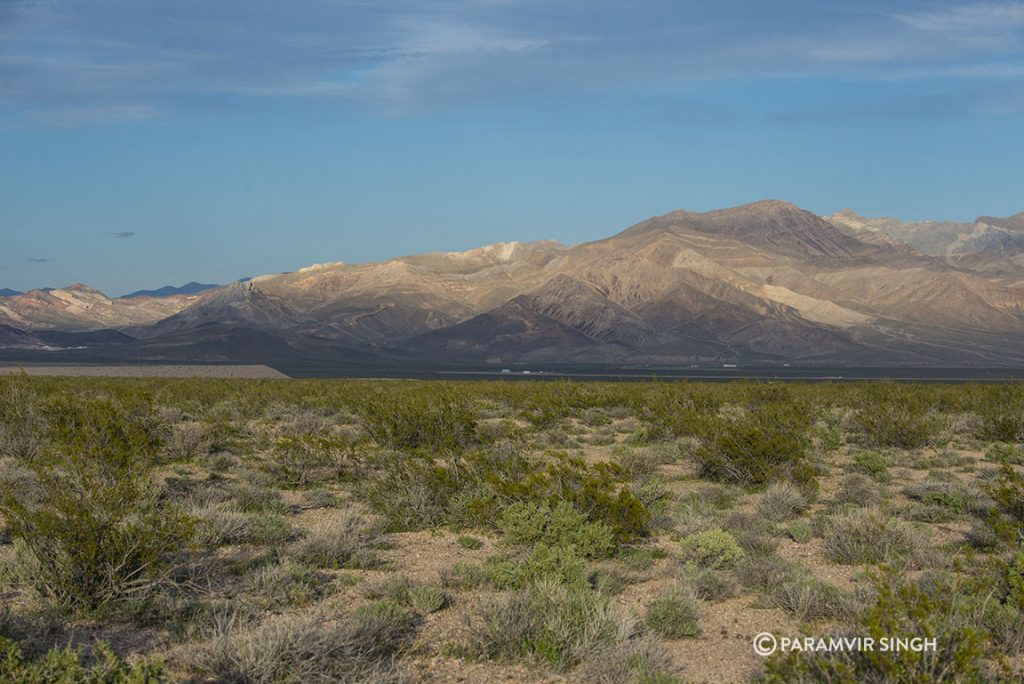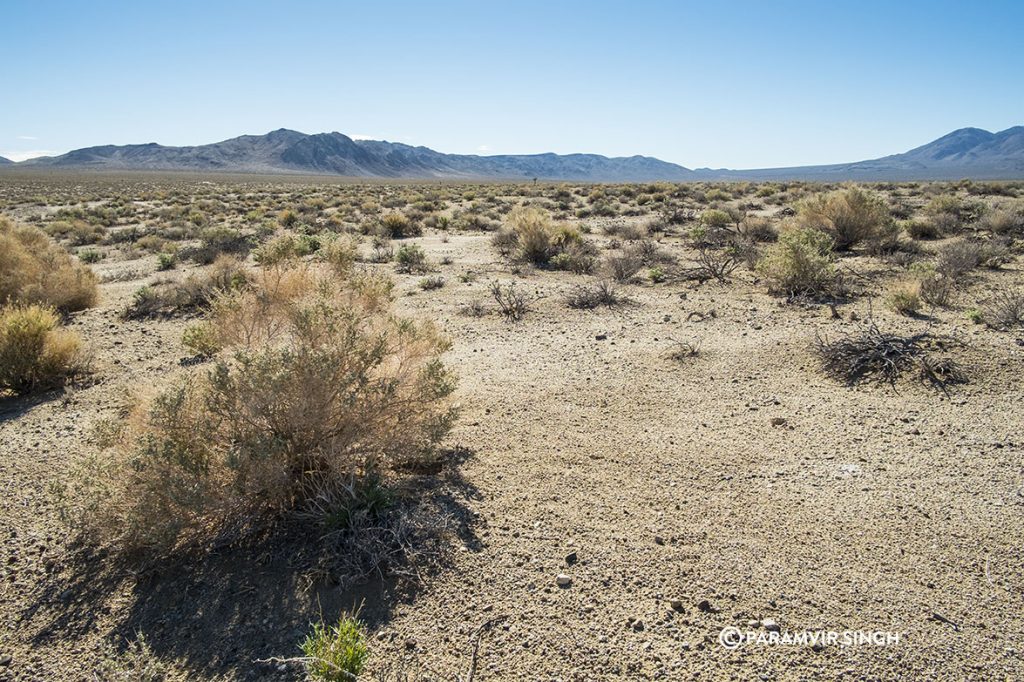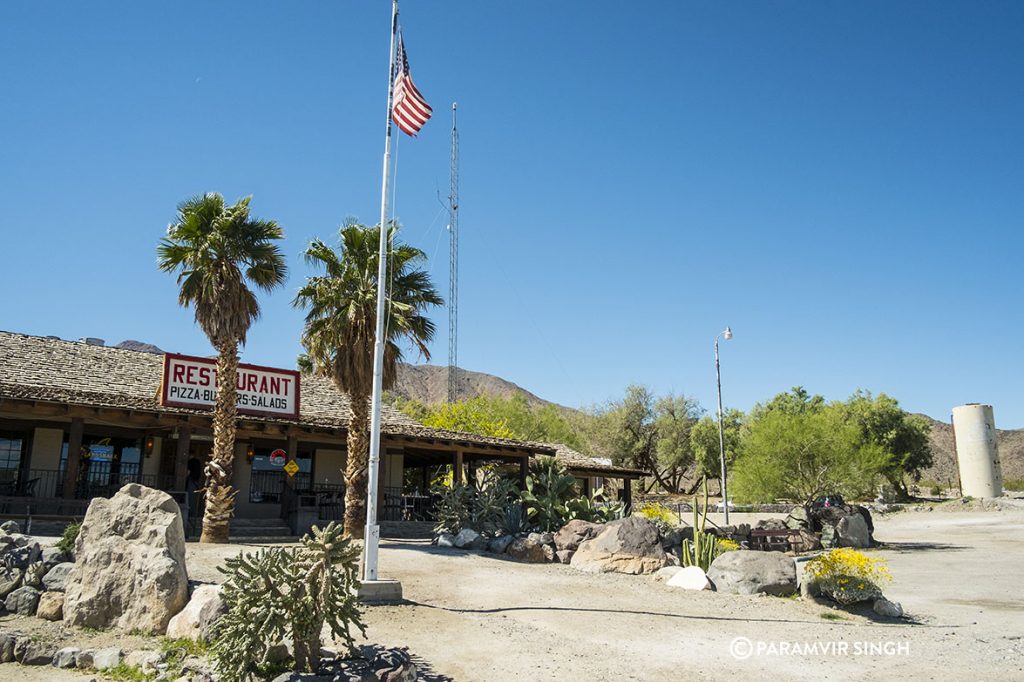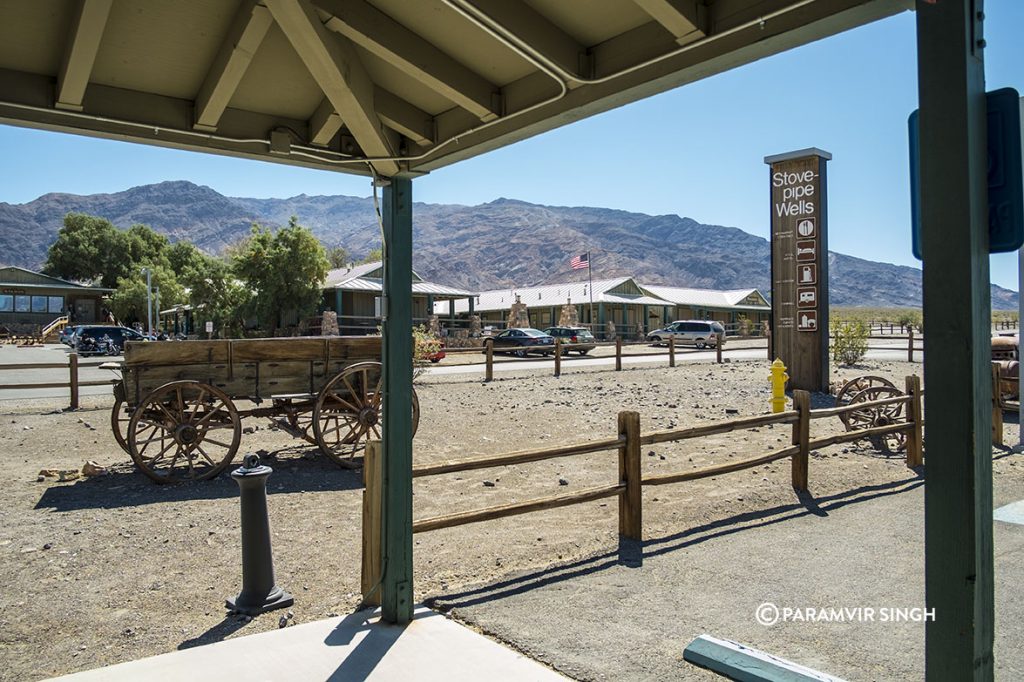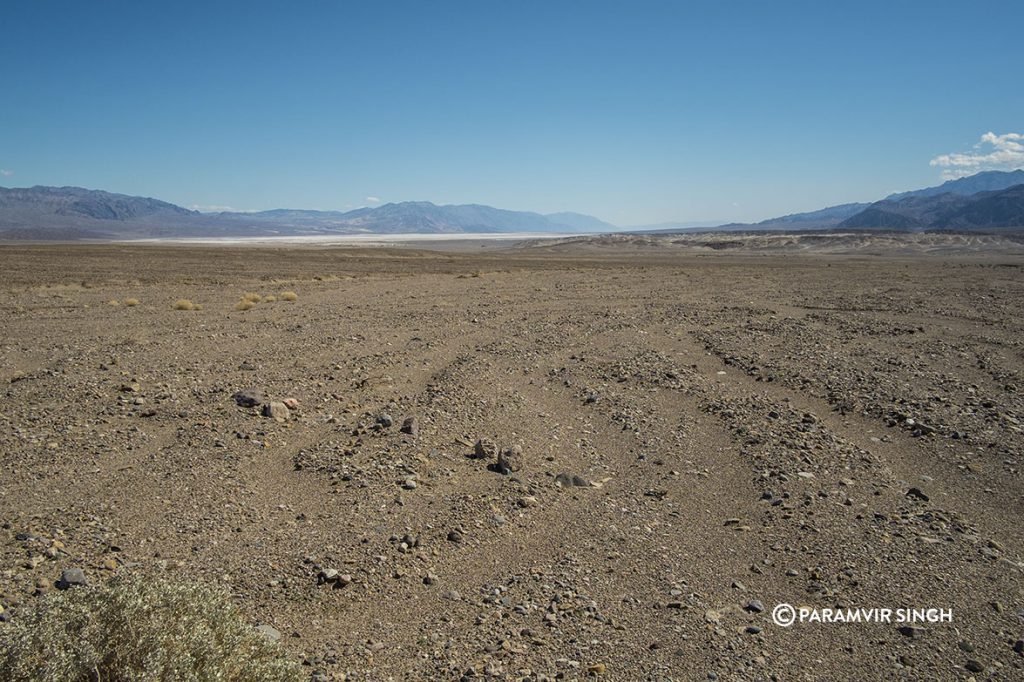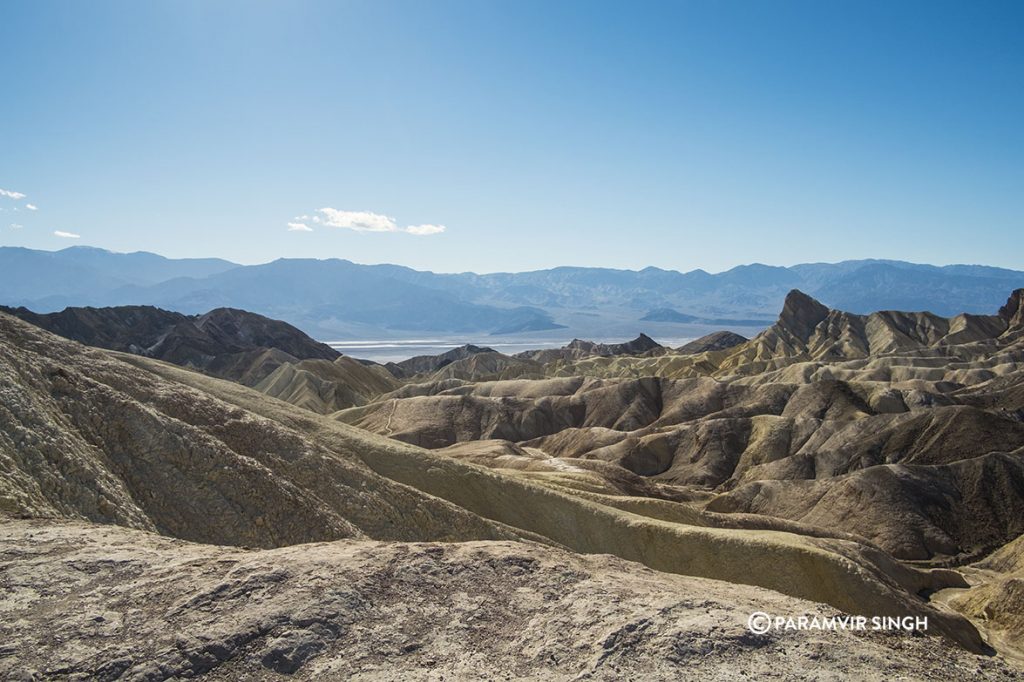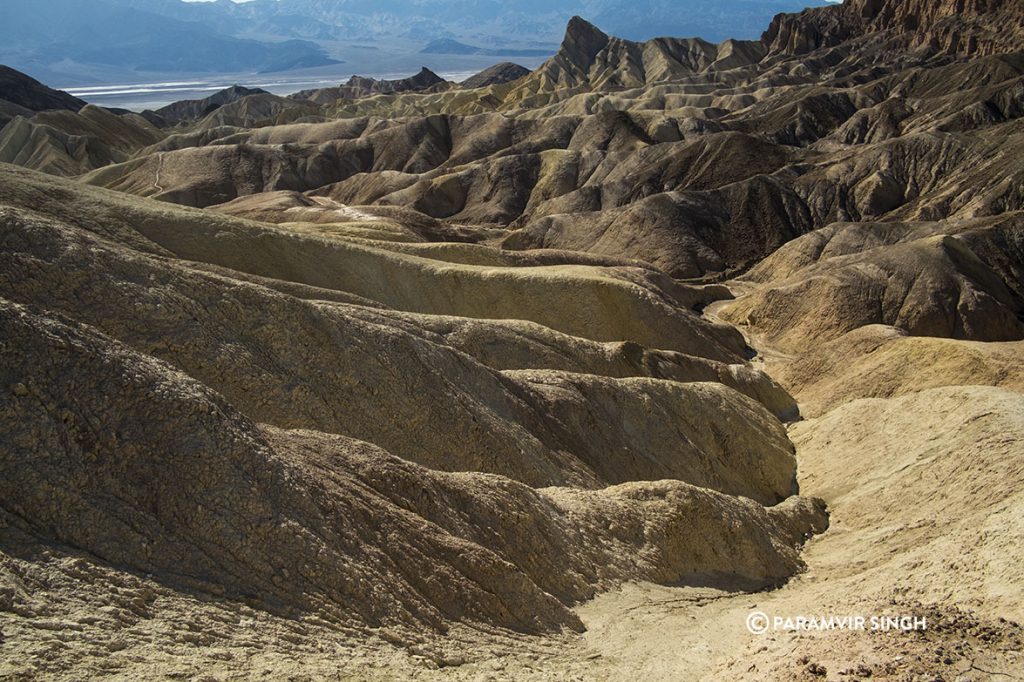 The park is 13650 sqKm so keep more than three days to exploring it.
What to see at Death Valley National Park: Do step by the visitor centers at any of the park entrances. If they have a documentary, do try and see it. Collect your maps, drinking water etc here.
20 minutes South of the Furnace Creek Visitor Center is the Devil's Golf Course, an area of eroded rock salt eroded by wind and rain into jagged spires.  30 minutes south of the Furnace Creek Visitor Center is the Bad Water Basin, the lowest point in North America (its about 86 metres below sea level). A large flat area of salt desert, it was once a lake whose waters have evaporated over the years leaving behind salt deposits. In the rains it was some water logging, but it quickly evaporates. Summer temperatures here routinely cross 50 degrees Celsius.
15 minutes south of Furnace Creek is Artists Road and Artists Palette. It's a drive through old volcanic rock mountains with extremely colourful patterns formed by the oxidation of various minerals.
Zebriskie Point is one of the most famous view points in Death Valley National Park. It is q0 minutes east of Furnace Creek. 15 minutes east of Furnace Creek is the Twenty Mule Team Canyon, a winding off road through 'otherworldly badlands'.
40 minutes from Furnace Creek is Dante's View point.l At 1669 meters above sea level, it offers one of the best views in the Death Valley National Park, including an amazing sun rise. It overlooks the Bad Water Basin and the Panamint Mountains.
A few minutes ahead of Furnace Creek is Harmony Borax Works, an old (but no longer functional) Borax factory, one of the earliest attractions in Death Valley.
About 30 minutes west of Furnace Creek are the Mesquite Flat Sand Dunes, the largest sand dune area inside Death Valley National Park.
At the Panamint Springs area look at Darwin Falls, a miracle in the desert. These are spring fed waterfalls and home to migratory birds in spring. Father Crowley Vista is a landscape of dark ancient lava flows and volcanic cinders with a view of the Rainbow Canyon. Lee Flat Joshua Tree is an area for one of the best groves of Joshua Trees. Wildrose Charcoal Kilns are old (now discontinued) structures located in the Wildrose Canyon in Panamint Mountains. The Aguereberry Point gives a very high altitude view of Death Valley from the West.
There's plenty to see on the Death Valley National park. Make sure you have enough days! We feel at least 4 nights are required here.
Where to Stay at Death Valley National Park: Before you plan your visit do go through the National Park Service website for weather and other details. The best places to stay are inside the park, but you must book them well in advance.
Inside the Park: Stove Pipe Wells is open all year and has simple and affordable accommodation. The Inn at Death Valley (formerly called Furnace Creek Inn) is undergoing remodeling so check them on their website. The Ranch At Death Valley (formerly called Furnace Creek Ranch) is also undergoing remodeling. Open all year round. Panamint Springs Resort is open all year round and offers accommodations and camping. There are plenty of camping options too which may be cheaper. Look at the national park service website. In Furnace Creek you can find all your supplies for camping (not the gear, but food, water, toilet rolls etc).
Outside the park: In case you cant find accommodation inside the park, look at the nearest outside. To the East of Death Valley is Pahrump in Nevada. It has many accommodation options. To the west west is a lovely old town of Bishop. You can find plenty to do and stay at Bishop.
We had stayed at Lone Pine 100 miles from Death Valley's Furnace Creek Region. But because the roads are good and the journey gorgeous, we never felt we were staying very far away.