Many people tell stories of their glorious wonderful treks through stunning landscape. Well, this is the story of a completely different type.
While staying at the Blue Mormon Resort at Bhimashankar Wildlife Sanctuary, the hotel staff told us we could go for a moderate trek though the forest. They said we could find guides near the temple.
So off we drove to the temple, and luckily quickly found a 'guide', a simple looking village fellow. We told him we were not 'professional' trekkers, and just wanted a small walk through the forest. So we started.
Photography buffs that we are, we spent the first 10-15 minutes at the temple, shooting the sadhus and devotees. Lovely portrait subjects. Then the patient guard took us through the backyard of the temple into the jungle.
We spotted many a bird but we were on the lookout for the Shekaroo : the giant indian red squirrel, an endangered animal found in these very forests. Lucky for us, we quickly spotted, one then another one. They go tuk-tuk-tuk and mostly stay on the higher branches.
The guide took us through the forest, a tiny trail, which was followed by villagers since ancient times to the temple which we had left behind. The forest on either side of the trail was too dense to even step on. Every few minutes a few tribals would walk the trail, songs playing on their mobile phones. By now it was noon and we were already hungry to eat our packed lunch by a small pond. So we took a break and as soon as we finished we saw a trail of dozen Langoors go across a small stream jumping, splashing water. There would certainly be more wildlife to sight. We were tempted.
After walking for a while, we asked the guide what next. This was probably where we made a mistake. He said there is a village as far ahead as the distance we had already covered, and we could get a bus ride back to the hotel from the village. I looked at my watch : we had been walking for 45 minutes. The way ahead, according to the guide, should be another 45 minutes. It didn't seem interesting to trace our route back. We agreed to move ahead. After all, it was only 45 minutes, as the guide said. Just then the guide spotted another shekaroo for us that I almost felt as though it was his pet squirrel following him.
We began to walk again. We walked and walked. Through the dense forest, through clearings and meadows. We climbed a hill , and were memorised by the beauty of the flat hill top plateau, But no sight of any village. We had already walked an hour, but were still patient especially smitten by the beauty of the landscape and excited by spotting dead skin of a snake, sitting on dry grass. We kept walking until we reached an old water tank. We sat down to take a breather. We now had only one third a bottle of water left. And it was hot.
We walked for a couple of more hours. We ran out of water. The guide kept promising the village was just a little bit ahead. We walked, crossed a stream, climbed up a second hillock and down again, and far in the distance was 'the' village. The sight of the village gave me some hope. By the time we reached, I was so thirsty, I asked one of the villagers for chai (I was too scared to drink the water).
"Where is the bus stop?", I asked the guide.
"Just behind that hill", he said.
"Behind that hill? I thought you said it was next to this village??"
I realised the village folk here have no sense of time or distance.
Having no option but to follow him, we left the village and looked wearily at a near 90 degree hill we had to climb up and then down again. A village dog gave us company. Half way up the hill was an ancient rock cut temple, the guide insisted we pay obedience to. We did. It was a welcome break. The steep hill was too tiring. You could climb straight, not make the mistake of looking back or down. It was scary.
"Where's the bus stop?"
"Just a little ahead"
At this point, the village dog abandoned us, and a village goat took over. We came down the other side of the hill with the guide and the goat, where we met a one legged milk man.
The guide asked us to follow the milkman while he quickly ran an errand in the previous village. I was shocked, angry and confused. What if they wanted to rob us? Then I wondered what could a one legged milk man do anyway. Well, for one, he walked faster than us over the hills, with his stilt for support. It turned out, our bus stop was still another hill away, which could be reached only after crossing a second stream. The goat abandoned us at this stream. My heart sank a little. Somehow, the goat had brought a bit of friendly hope.
We followed the one legged milk man, and started our climb on yet another hill. Halfway to the top we were shocked (and worried) to see a wooden spear, smeared with drops of fresh blood. We looked at each other and wondered what we were walking into. I tried to put on a tough face in front of the milk man.
We climbed this hill until we reached a clearance, the grassland meadows of this table top. The milk man lived here alone in a shack with his cattle, in prime leopard territory. If we weren't worried about our situation (were we lost? would we be robbed? were we hungry, tired and thirsty), this would have been awesome. We took a break at the milk man's. He offered us fresh milk, which I politely refused, since it wasn't 'boiled and pasteurised'. Snooty city folk, us. I thought of the blood smeared spear. Even more reason to turn down food and drinks offered to us.
Soon we were joined by our guide, back from the village we had left one hill away.
"Where is the bus stop?"
"We just have to get down this hill"
And that's nowhere a 45 minute walk, as we had walked 5 hours already.
So we started the descent from the milk man's hill.
Once at the bottom, we crossed another stream. I was hopeful to find the bus stop now.
"Where is the bus stop?"
"Sir, I told you its behind that hill, next to the village"
I wanted to smother him.
Finally when we reached the top of this hill, there was a bus stop. And next to the bus stop was a chai tapri. We were so relieved. Thirsty like hell, we bought a couple of bottles of water and ordered some bhurjee pao. The guide was telling the shop keeper with a smirk how we ran out of patience on a simple walk through the forest.
A simple walk, which we had estimated would take 45 minutes, ended up taking 7 hours. Having started at 9 am, we had reached the chai tapri at almost 4:30 pm. Without food or water. And with strange sightings of blood smeared spear heads. Not being mentally prepared for such a long trek through three hills, we learnt a new lesson.
Well we learnt that one should always carry extra snacks and water on all treks, plus be very sure of the distance. What's 7 hours for us, is probably just 45 minutes for the locals. The one legged milk man is able to deliver milk across 4 hills each day!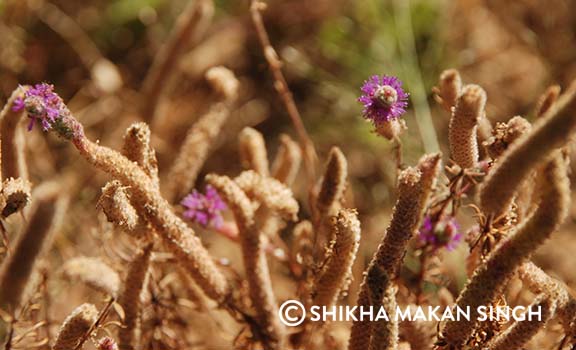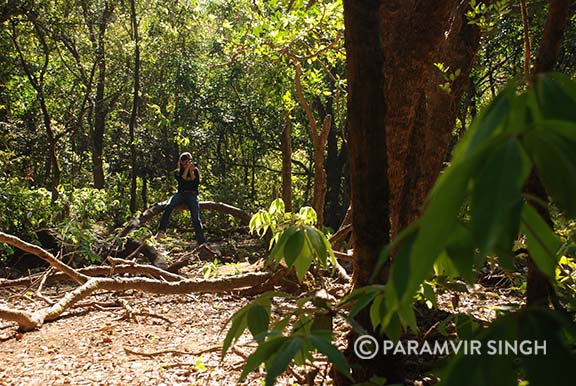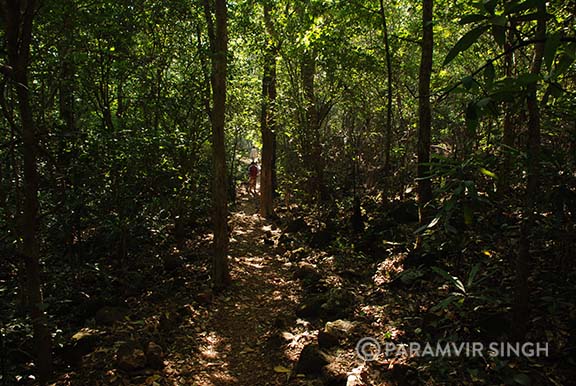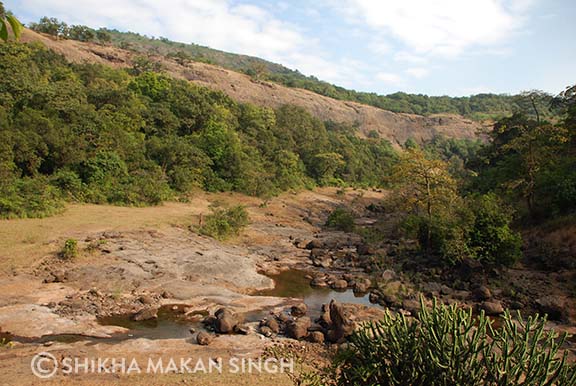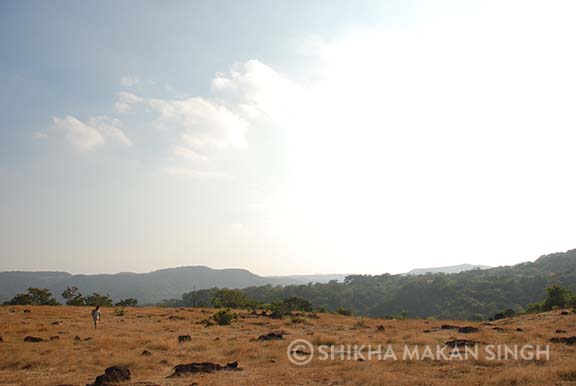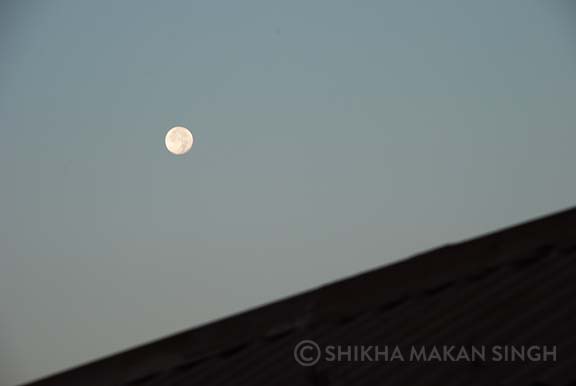 [box type="success" width="100%" ]How to reach: Bhimashankar is some 250 km from Mumbai and some 120 km from Pune. It actually lies somewhere between Malshej Ghat and Lonavala. From Mumbai one can take the Malshej Ghat Road and reach Bhimashankar via Junnar. Where to stay: We stayed at the Hotel Blue Mormon. Its fairly good, and when we went, the food was very good too. The rooms are modest.[/box]